Island of Lost Boys: Hadzihalilovic's Triumphant Return to Enigmatic Filmmaking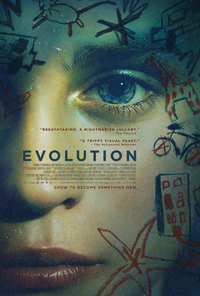 French director Lucile Hadzihalilovic returns to the director's seat for the first time since 2004's Innocence with the equally austere Evolution, switching from the realm of ambiguously groomed schoolgirls to grapple with a bit of gender disorientation concerning a mysterious island of young boys. Co-written with Alante Kavaite (director of this year's Summer of Sangaile), the film is a striking odyssey of psychological fears in relation to pregnancy and penetration. Recalling the earlier body horror works of Cronenberg as it recalibrates H.G. Wells' classic The Island of Dr. Moreau, Hadzihalilovic strikes notes of unrelenting menace with this hypnotic nightmare of signs, symbols, and subversion.
Nicolas (Max Brebant) is ten years old and lives alone with his mother (Julie-Marie Parmentier) on an isolated island populated by other young boys his age who all live under similar circumstances. While swimming one day, he discovers the dead body of a young boy covered by a starfish. In terror, he tells his mother, who disagrees with what he saw. She extracts the starfish out of the sea, but Nicolas remains unconvinced. He begins to suspect his mother is lying to him and he takes a cadre of young boys along with him to explore further. During the night, the women leave behind their sleeping wards, and Nicolas decides to discover what exactly they get up to.
Hadzihalilovic also seems to be channeling the human organism as host metaphor a la Village of the Damned, this time turning the tables with what appears to be an alien race of female beings. The relationship of these 'mothers' to their children is strikingly, almost comically cold, and the similarities between the French word for 'mother' and 'sea' (mere and mer, respectively) would seem to be of significance.
As filmed by DoP Manuel Dacasse (who recently shot Du Welz's superb Alleluia as well as The Strange Color of Your Body's Tears), Evolution is a superbly shot aquatic odyssey, capturing ravishing underwater sequences, as well as an unforgettable and startling ritual shared by these strange mothers. Hadzihalilovic associates them symbolically with the starfish, a sea creature whose sex is not distinguishable by sight, revealed only when they spawn. These invertebrates (they have the ability to reproduce sexually and asexually) are also historically associated with many instances relating to military and naval history, enhancing Hadzihalilovic's associations to this strange, aggressive race apparently experimenting on the male human form with some type of potentially amphibious birthing.
Purposefully ambiguous with the exact intentions these boys are being used for allows for multiple readings, and Hadzihalilovic is more than merely turning the tables on our conditioned notions of gender. A creepy basement hospital proves to be the film's site of experimental strangeness, where Nicolas and other boys are supposedly injected with some kind of strange fetus, and leads to an even more uncomfortable 'romance' between our protagonist and the ginger nurse (played by the wan Roxane Duran of Haneke's The White Ribbon).
The women here seem to come from the sea, at least based on their odd rituals and the strange suction-like cups evident on their spines. They watch in stone-faced silence a video of human caesarian birth, almost as if to remind themselves of the patriarchal rigidity of the human culture they're infiltrating. Notions of the male gaze interrupted as well as playing with masculine terrors (like urban myths relating to the potentially vestigial uses of the belly button, or examination and curiosity of internal organs, such as Nicolas' poking his fingers into the slippery corpse of a crustacean) abound, and Hadzihalilovic's film is a playful reversal of her earlier Innocence.
Previously a collaborator of Gaspar Noe's (she co-wrote his galvanizing 2009 film Enter the Void), her long gestating sophomore film proves her particular talents for poetic grotesquerie, and it would be a pity if she were to take another decade to launch her next project.
Reviewed on September 17th at the 2015 Toronto International Film Festival – Vanguard Program. 81 Mins.
★★★★/☆☆☆☆☆