Finalmente L'Alba (Finally Dawn) | 2023 Venice Film Festival Review
Cruel Intentions: Costanzo Pays Homage to the Demi-Monde of the Italian Film Industry
After adapting Elena Ferrante's "My Brilliant Friend" for television, Saverio Costanzo returns to narrative film for the first time in almost a decade with the odd, sinister Finally Dawn (Finalmente L'Alba), which peers through a glass darkly into the underbelly of the cinematic It crowd. However it's also a twenty-four-hour coming of age tale about not only the loss of innocence but the discovery of agency, as one young woman's eyes are opened through far ranging formative experiences before she breaks the dawn. Much like Damien Chazelle's ode to the transition of sound cinema with 2022's Babylon, Costanzo returns to the empire of Rome's Cinecitta in the 50s, nicknamed the Hollywood on the Tiber, and all its pulpy glory. At a running time nearing two and half hours, its circuitous nature sometimes feels taxing, especially as concerns some of the American actors, who feel either too young or too contemporary to rightly mirror the bigger than life egos of cutthroat ingenues and fading leading ladies from the period. And yet, Costanzo's film exudes a serpentine quality which unfolds like the adaptation of a fascinating, dense novel.
Costanzo begins and ends with sequences set on The Spanish Steps, the first ending a sequence of film within the film called The Sacrifice, which we later realize is thematically appropriate. Alba Rohrwacher is playing Alida Valli, who at this point in her career has left behind her Hollywood career (a character lovingly reminisces about Hitchcock's 1947 classic The Paradine Case, the kind of film which solidifies actual stardom, in her mind). Joe Keery is a fictional American star, Sean Lockwood, and it appears sisters Iris (Sofia Panizzi) and Mimosa (Rebecca Antonaci) have a crush on him. As they leave their customary Sunday afternoon film with their mother, Iris is approached by a man claiming to be involved in an ongoing production at Cinecitta, a swords and sandals epic (which sounds a lot like Mark Antony & Cleopatra, but isn't) headlined by Lockwood and Josephine Esperanto (Lily James), whose unlucky love life is regular tabloid fodder. He confirms Iris is a shoe-in as an extra due to her beauty, her parents relenting to let her try. The audition is the same day Mimosa is scheduled to have a mixed family dinner with her fiancé, Angelo (Giuseppe Brunetti, also appearing in Comandante), though she appears to have regretted her agreement to marry him.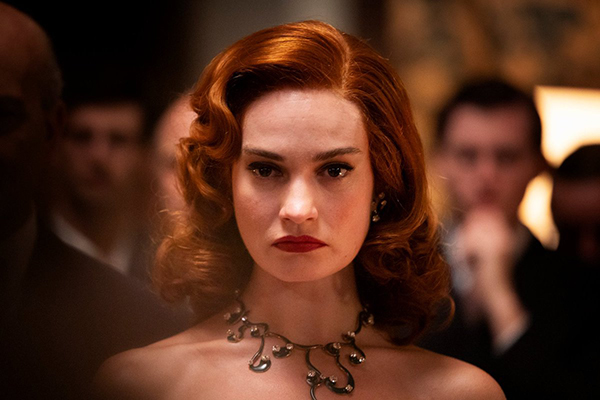 As luck would have it, both sisters are selected, with Mimosa catching the eye of Josephine, appearing as a featured extra on camera. As the day's production ends, Mimosa is gifted a beautiful red dress by the Hollywood star, and as fate would have it, she's invited to the after party alongside Sean and Josephine, escorted by an affable art dealer Rufus Piro (Willem Dafoe), who luckily translates for both parties. Although Mimosa makes passive attempts to alert her mother, she gets swept up in the chaos of Josephine, ending up at another sumptuous party in the same area where an aspiring actress was just found dead. As the night proceeds, she encounters a staggering number of potentially dangerous individuals, all who confuse her reactions to them as performative, since it appears most of these people haven't dealt with any real semblance of reality for some time.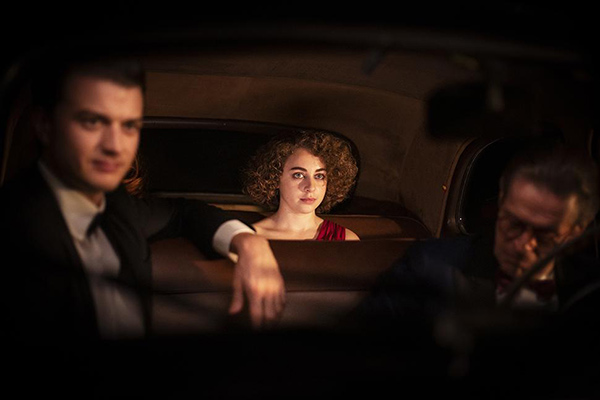 As Mimosa, Antonaci feels like something of a Bronte heroine, an innocent whose purity is attractive to those around her, a blank slate to sully, a youth whose energy can be tapped by a vampiric coterie of lost souls. However, this also means Mimosa is somewhat of a dull heroine to lead us through such fading decadence, like Jane Eyre at a raucous orgy. Her impending marriage to Angelo feels like the cruel converse of Delbert Mann's Marty (1955), and her wish to escape is palpable. Costanzo's film initially seems to evoke classic Italian films of the period, like Visconti's Bellissima (1951), with Anna Magani as a mother desperate to make her child a star, as well as Antonio Pierangeli's I Knew Her Well (1965), where Stefania Sandrelli plays a young woman sucked into the vacuity of the movie business.
And then Costanzo finally picks up the pace on the way to the strange party, a place where someone is acting out Black Dahlia style murders on young women who desire to be famous. It is perhaps Mimosa's saving grace she's never been treated like her attractive sister, and so her tentativeness allows her suspicions to be aroused. But where Finally Dawn doesn't seem to work at all is with its American crew. Lily James is styled as an Ava Gardner/Rita Hayworth type, a beauty who burst onto the scene in the 1940s and is now being prepped for career burial. While the look is right, James feels much too green for this role (someone like a Natalie Portman could have charged this personality with ferocity, for instance), her energy still akin to the doe-like Joan Fontaine (whose footsteps James walked in with Ben Wheatley's remake of Rebecca, 2020).
On the other hand, Rachel Sennot seems too contemporary in both style and substance, back peddling in the periphery in some vague All About Eve/Persona subplot which doesn't feel entirely necessary. Joe Keery is likable, but there are so many more interesting ways in which 1950s masculinity was changing for Hollywood's matinee idols; it seems a missed opportunity in Constanzo's chaotic orbit. Here, he's just a dangling carrot for Mimosa, and the night's prize for the attention hungry Josephine. Only Willem Dafoe's pseudo Machiavellian art dealer stands out amongst the film's native English speakers. Along with The Spanish Steps, Costanzo reunites Mimosa metaphorically with a caged lion that has escaped, wandering the streets of Rome. As Mimosa struts off into the dawn, the film glides into a strangely positive morning full of possibilities.
Reviewed on September 1st at the 2023 Venice Film Festival – In Competition. 140 Mins.
★★★/☆☆☆☆☆