Enter the Franchise: McQuoid Revives the Fisticuffs & Fantasies of Beloved Video Game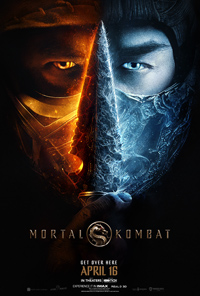 In the continual fluctuations of franchise reboots and revivals, the resurgence of Mortal Kombat has always seemed a given. The 1992 Midway Games property, which originally was designed as a fighting game modeled after Jean-Claude Van Damme (hence the posturing of the Johnny Cage character), and originally adapted for the screen in 1995 by Paul W.S. Anderson (who would move on to the much more prolific Resident Evil franchise), and then immediately laid to rest after the considerable failure of its 1997 sequel Mortal Kombat 2: Annihilation (helmed by the first film's DP, John R. Leonetti).

Director Simon McQuoid makes a surprisingly adept directorial debut with a big budget remounting, which basically serves as a remake of the 1995 film (itself aping the plot of Enter the Dragon), although with various notable shifts in character focus in the script from Greg Russo and David Callaham. Fans of the video game or those nostalgic for the memories of the pulse-pounding soundtrack generated by Anderson's initial film will likely be impressed, while those unfamiliar with the universe may feel a bit frazzled in attempting to differentiate a variety of characters stuffed into a generalized plot involving the control of Earthrealm by malicious, supernatural forces.
Japan, 1617. Lin Kuei assassins led by Bi-Han (Joe Taslim) attack the compound of Hanzo Hasashi (Hiroyuki Sanada), killing his wife and son. While Hanzo obliterates Bi-Han's clan, he falls underneath his attacker's sword, banished to hell (where he becomes Scorpion). On a positive note, Lord Raiden (Tadanobu Asano) rescues his infant daughter. As centuries pass, a prophecy concerning Hanzo's surviving lineage draws near. In the realm of Outworld, led by Shang Tsung (Chin Han), the ability to invade Earthrealm is within his reach after having won nine out of ten required deathmatch tournaments known as Mortal Kombat. To secure victory in the impending face off, Shang Tsung tries to circumvent the system by dispatching Bi-Han, now Subzero, to take care of Hanzo's successor, MMA fighter Cole Young (Lewis Tan)
The devil's in the details this time around, right down to racially appropriate casting. In the previous two films, the snow-haired Lord Raiden was portrayed by Christopher Lambert and James Remar, respectively. This time around, we get Tadanobu Asano, whose glowing blue eyes connote his otherworldliness. Likewise, the script takes a bit more care (albeit breathlessly) to formulate several origin stories, beginning most prolifically with the creation of Scorpion from Hanzo Hasashi (here played by the ever-dependable Hiroyuki Sanada).
Anderson's film pulled towards Johnny Cage (who isn't present here) and Liu Kang (the magnificently maned Robin Shou appeared in the first two films), but this time around we focus on MMA fighter Cole Young (a likeable Lewis Tan), who is headhunted by Jax (Mehcad Brooks). The bones of the narrative remain the same – but as evil Outworld leader Shang Tsung, Chin Han seems to be enjoying himself.
Silly, yes, but once we get past these unavoidable parameters, McQuoid speeds through exposition at breakneck speed (pity the fool who takes a restroom break during Sonya Blade's abridged rundown meant to usher both Cole and the audience into rudimentary cognizance of the plot mechanics), and then sails through an endless assortment of well-choreographed and often quite visceral fight sequences much better attenuated to the accents of the video game.
Never taking itself too seriously, comic relief is provided by Kano's braggadocio (an enjoyable Josh Lawson), while, once again, Sonya Blade (a game Jessica McNamee) is fashioned as an underwhelming liability until the finale. Ludi Lin appears as Liu Kang, in tow with mentor Kung Lao (Max Huang), while some impressive voice work from Damon Herriman as Kabal and Angus Sampson as the four-armed Goro (here a bit Incredible Hulk-ish) are also some fun elements (Sampson isn't the only member of the Insidious franchise on board—James Wan serves as producer).
Beyond the special effects which are more lavish than what was capable in the mid-1990s (Reptile, here a Komodo dragon-like creature, is the best glow-up), it's a delight to see non-English speaking characters actually allowed dialogue in their mother language. And the tech details are more impressive than could be expected, particularly with a definite mood derived through peculiar shots and sequences thanks to DP Germain McMicking (cinematographer of the underrated Partisan and Berlin Syndrome).
★★★/☆☆☆☆☆