The Legacy of Octopussy: Mendes Returns to 007 on Autopilot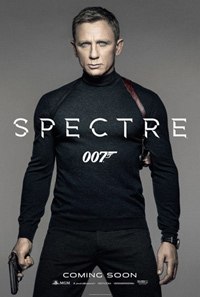 A good act is hard to follow, and Spectre, the latest installment in the enduring legacy of British MI5 super spy James Bond, is evidence of the adage. Agent 007 returns for his twenty-fourth feature, the fourth reincarnation of Daniel Craig, and this follows the success of 2012's Skyfall, considered a game changer in the franchise with box office profits luring not only its star back for another chapter but returning director Sam Mendes and screenwriters John Logan, Neal Purvis, and Robert Wade (with Black Mass and Edge of Tomorrow scribe Jez Butterworth along for the ride, too). Aiming to present us with more of Bond's murky origin story, touched upon with foreboding flourishes in the last installment, this end result is an overly-complicated and increasingly silly follow-up attempting nearly the same narrative tricks but without the same dramatic success. A cartoonish villain and the return of an unlikely romantic angle only hampers what ends up another run-of-the-mill technological terror hinged on ticking clocks and improbable last minute resolutions.
Spectre starts off on with its most thrilling sequence, with Craig's Bond dashing over rooftops and crumbling facades while a Day of the Dead parade dances below in the streets of Mexico City, with a production design recalling Robert Montgomery's neglected 1947 noir Ride the Pink Horse and an opening tracking shot aiming to best Orson Welles' Touch of Evil (1957). An impressive and intense helicopter action sequence announces this as the applause worthy second round for Craig and Mendes, but Spectre quickly falls into murky swamp of increasingly illogical plot twists.
Following a short rendezvous with the recently widowed mobster's wife played by the immortally beautiful Monica Bellucci (fallout from the opening sequence events), Bond is cast into a sticky wicket thanks to the increasingly impatient M (Ralph Fiennes) who must now answer to a new superior, C (Andrew Scott). who aims to shut down the 00 program for good and replace it with high tech global surveillance data storage supported by a faux-UN self-elected panel of paranoid countries. A last minute message from Bond's previous boss (Judi Dench) directed him to Mexico City, where he is led to follow criminal mastermind Franz Oberhauser (Christoph Waltz), a man with shocking connections to Bond's past.
There's much too much of the familiar and archaic in Spectre. Strikingly similar to the technological horizon challenging the necessity of Ethan Hunt in the latest installment of Mission Impossible, Bond must contend with a super computer in an era where we are already faced with this predicament of access and shared information.
With the exception of something called 'super blood,' injected in Bond's bloodstream to track him (though, in a world where super blood is possible, one would hope for an eradication of blood diseases, at least), nothing seems very original about this narrative. A comical aside in Q's lair where the newest booty of gadgets seems to be the silly fodder making moments of Paul Feig's Spy seem relevant, the rescuing of aging operative Jesper Christensen's assassination trained daughter Lea Seydoux (who is transfixing despite the continual ridiculousness) is a note guiding several other espionage films we've seen this year alone.
A face off on the super villain's turf a la Skyfall reveals Christoph Waltz to have been the overarching entity plaguing Craig's bond throughout all four installments, with significant ties to Bond's own backstory—though this is so ridiculous and tossed off with casual abandon it hardly registers as more than laughable. We've seen Waltz in mirthful villain mode before but here he arrives as one of the most unremarkable Bond villains to date. The interconnectedness of Spectre to the last three films seems inspired, but beyond this idea it fails to yield anything more complex or creative. Seydoux's character feels particularly scatterbrained, first resistant to Bond's irascible charms, then jumping into his arms and shortly after proclaiming to be in love. Initially, she seems a delectable note of Proustian significance, her Madeleine Swann doubtlessly a reference to Swann in Love, where Charles Swann loses his place in society thanks to his involvement with a courtesan. But Seydoux ends up the type of second-fiddle fodder women are always relegated to in Bond's world.
Meanwhile, those poor sods in London seem utterly wasted, from Ralph Fiennes, Ben Whishaw, Rory Kinnear and poor Naomie Harris' second useless presence in a Bond feature. Technically speaking, Spectre looks and sounds exquisite, from its inky opening sequence unspooling under Sam Smith's already poo-pooed but thematically appropriate theme, to several exquisite locales captured by DoP Hoyte Van Hoytema. But even its visual splendors come to feel like sterilized palettes. It's too bad Spectre didn't arrive after Craig's low point as Bond in the 2008 Marc Forster helmed Quantum of Solace. But alas, here we have more of the same, and 007 has come to resemble the carbon copy heroes of other patriarchal prized franchises.
★★/☆☆☆☆☆