The Hamming of the Opera: Sable's Debut Musical/Horror Hybrid Light Fun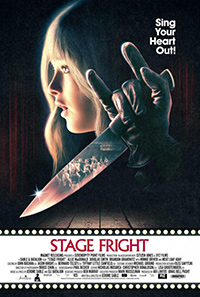 What promises on paper to be a delirious mess or instant camp classic ends up being not quite either with Jerome Sable's ambitious directorial debut, Stage Fright, a musical horror film that foregoes cheap laughs for an unanticipated dose of character development. Bringing to mind the days when B horror flicks were as much as fun as they were unapologetically (and often, cheaply) violent, Sable's film is bound to be described as a film 'like' this one mixed with something 'like' that one, though choosing to market it as Scream crossed with "Glee" is terribly unfair and not quite apt, as its own self-awareness, not to mention the performances Sable snags from his cast, catapults it as something much more genuine and entertaining than those references. Friday the 13th meets Sleepaway Camp meets The Rocky Horror Picture Show with a killer who looks like Jigsaw was painted to resemble Gene Simmons? Yeah, a little bit.
During the opening night of her star making performance in "The Haunting of the Opera, Broadway star Kylie Swanson (Minnie Driver) is brutally murdered, leaving her twin children to be raised by their stepfather and producer of the show, Roger (Meat Loaf). A decade later, Roger is still trying to muster a hit, now running a performing arts camp for talented kids, as Kylie's kids, Camilla (Allie MacDonald) and Buddie (Douglas Smith) work in the kitchen. Now, Roger wants to resurrect the cursed production that killed Kylie, but the setting has been changed to feudal Japan, causing Camilla to violate camp rules and wheedle her way into an audition. Snagging the lead role that once belonged to her mother, minor dramatic squabbles amongst teenage cast members ensue, though right before the premiere, which will be attended by one of Roger's prestigious Broadway contacts, someone begins killing the cast and crew, viciously. Someone that seems to have a pointed hatred for musical theater.
The success of his highly lauded short film, "The Legend of Beaver Dam," showcased Sable's sensibilities and seemingly opened the door for Stage Fright, which snagged Meat Loaf and a notable cameo for Minnie Driver. But the film really belongs to its younger cast, particularly Allie MacDonald as the burgeoning star, an actress that seems a dead ringer for Jess Weixler. While featuring a number of musical interludes, with lyrics and music composed by Sable and collaborator Eli Batalion, some of which are quite amusing, not many stand out on their own.
The juxtaposition of the angry Metal Killer that begins stalking the ensemble brings a certain amount of energy during several asides, though he's kept on the back burner until the generously extended final act, which takes quite a while to unravel. And if you're looking for any kind of great surprise twist, perhaps you shouldn't look too hard or you'll be dismayed—it's a bit obvious who the murderous serial killer is all along. But yes, it's all quite amusing, but somehow, Stage Fright leaves us wishing that Sable had somehow upped the ante a little. He's concocted a deliriously promising scenario, yet, there's really no subversive edge, and therefore, little impact—merely a frivolous treat. While there's certainly nothing wrong with frivolity, many of the films that Sable brings to mind with his creation had a bit more subtext. But forgive it that, and you should have an enjoyable 88 minutes to spend.
★★½/☆☆☆☆☆