Mostly Favreau: Actor/Director's Return to Indie Scene a Pleasant Surprise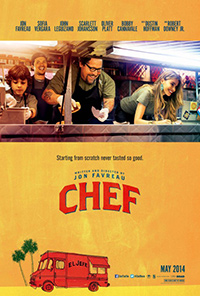 A thinly veiled allegory for Jon Favreau's own career, whether he consciously means it to be or not, comes in the form of his latest effort, Chef, which sees the actor/director return to the independent film roots that initially made him a notable name way back with 2001's Made. A cathartic potshot at the performance art of critics sets the stage for an artist (here featuring the eponymous occupation rather than filmmaker) finding his own happiness, where he can master creative control over his own product without the interference of those who have no goal but to make bank. A vast array of high profile supporting cast members, several of whom starred in the critically depreciated Iron Man 2 (the reception of this and 2011's Cowboys & Aliens resulted in Shane Black stepping into the figurehead seat of the third installment) are positioned as representative of the stagnant life Favreau's title protagonist must leave behind to in order to pursue his own interests.
A noted and successful chef, Carl Casper (Favreau) works for a high profile restaurant, whose owner (Dustin Hoffman) insists that Casper stick to making his most popular dishes on the night one of the most influential food critics (Oliver Platt) is scheduled to dine in. However, this backfires miserably on Casper, who receives a scathing review that goes viral. At the same time, he's trying to become accustomed to the single life once more after divorcing his wife (Sofia Vergara), rearing a son (Emjay Anthony) that holds him in high regard, and trying to end a failing relationship with a co-worker at the restaurant (Scarlett Johansson). Opening his own twitter account, Casper creates a dramatic firestorm with the uncaring food critic, of which the end result forces Casper to reevaluate his goals.
While there's enough material to generate a substantial reception theory hypothesis pertaining to the set-up, Chef manages to be less concerned with taking aim at Favreau's detractors than it does in becoming a touching, if somewhat slight slice-of-life narrative about pursuing your passions. Those looking for glossy turns from Robert Downey Jr., Scarlett Johansson, or Dustin Hoffman will find that they're relegated to the background fabric. However, casting beauties like Johansson and Sofia Vergara as ex-love interests of Favreau's seems to stretch notions of reality, even as unassuming as their performances may be. John Leguizamo and Bobby Canavale (in yet another questionable hairdo) also round out the cast nicely. Without any extravagant twists or turns, Chef's most engaging and provoking moments happen to be shared between Favreau (whose performance makes him seem like he could be Louis CK's dreary brother) and Emjay Anthony, who plays his son.
With a running time of nearly two hours, Favreau still manages to create a well-paced, compelling narrative, though his Carl Casper still requires the considerable help of a benefactor in order to 'be his own man' when all is said and done. Even with an air of triviality, as Favreau hounds us with the power of today's social networking capabilities (the tweeting little blue birds twittering off into the stratosphere gets to be a bit overused), Chef manages to engage—a lesson for consumers that buying into the mainstream only impedes artistic freedom and integrity.
★★½/☆☆☆☆☆