Reviews
Stations of the Cross | Review
The Road to Hell: Brueggemann's Apprehensive Examination of Blind Faith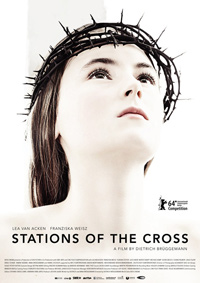 Premiering at the 2014 Berlin Film Festival, where it snagged the Ecumenical Jury Prize as well as Best Script, Stations of the Cross is Daniel Brueggemann's fourth film, an icy depiction of faith-based agonizing. In the fine tradition of Ulrich Seidl's dark tragicomedies dealing with religious fanaticism, the German filmmaker concocts a formidable denunciation of such archaic and ultimately dangerous belief systems, made all the more surprising considering the director's general penchant for comedy in previous features. Named for the Via Crucis, Latin for the series of fourteen images of Jesus Christ on day of his crucifixion, the film is divided into the same number of chapters charting its protagonists 'sublime' sacrificial journey.
With her family participating as members of a traditional and ultra-conservative Christian congregation called Society of Saint Paul, fourteen year old Maria (Lea van Acken) begins to find herself in rather a tough situation. Brainwashed against the demonic influence of rock, pop, and soul music, we meet her with a group of students being pressed aggressively in a pre-confirmation class by Father Weber (Florian Stetter) to challenge the status quo by refusing to accept the wanton tastes of others. This includes refusing to obey teachers playing music during class and abstaining from the temptation of advertising on billboards, etc. Maria's home environment seems even less welcoming, with her mother (Franziska Weisz) an incredibly domineering figure, controlling the household with an indomitable, often incredibly irritable iron fist.
While we hear barely a peep out of her acquiescent father (Klaus Michael Kamp), she shares a connection with warm hearted French au pair, Bernadette (Lucie Aron), who looks after Maria's developmentally disabled four year old brother. When a classmate (Moritz Knapp) shows pointed interest in Maria, he invites her to join his non-secular choir, a temptation which proves to cause considerable drama at home. Luckily, Maria has resolved to sacrifice herself so God will agree to assist her brother.
Though the events transpiring in Stations of the Cross are ultimately tragic, screenwriters Daniel and Anna Brueggemann often present the material as a dark comedy, enhanced by the chapter headings that begin to take on an air of ridiculousness. Each of these is filmed in a single take, a stationary camera coldly observing Maria's increasing futility. Newcomer Lea van Acken is quite the discovery here, and despite the rather detached impression given, she manages to transform the film into an emotionally effective property transcending its sense of parable.
Actress Franziska Weisz, an impressive Austrian actress who has appeared in Seidl's Dog Days (2001) and headlined Jessica Hausner's mesmerizing Hotel (2004), becomes an increasingly villainous figure, dominating two of the film's most powerful sequences as a rigid, controlling mother who drives her daughter into a terrible predicament out of stubborn selfishness.
Bruggemann's film recalls another recent German title examining the dangers of blind faith and an ultimate 'sacrifice,' Katrin Gelbe's over-the-top Nothing Bad Can Happen (2013). But whereas Gelbe relies on provocation and shock value to parallel sainthood with victimhood, Brueggemann provides a more effectively thundering condemnation.
★★★/☆☆☆☆☆