All About Steve: Boyle and Sorkin's Backstage Swipe at the Tech Magnate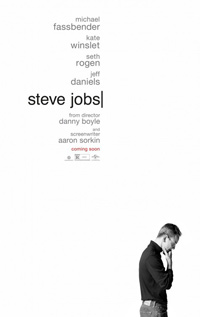 Though it successfully usurps the ungainly 2013 film starring a miscast Ashton Kutcher as the eponymous technological entrepreneur, director Danny Boyle and screenwriter Aaron Sorkin's up-do hardly grazes the superficial surface of the man known as Steve Jobs, especially considering his name serves as the title. An astutely written and hyper-intelligent (not to mention overly loquacious) chamber piece, the type we've come to expect from the likes of Sorkin following his tackling of Facebook's Mark Zuckerberg in Fincher's 2010 The Social Network, this treatment spans a fourteen year period and covers the backstage scenes behind three notable product launches in Jobs' career (1984-1998). The result is an exaggerated triptych of moments formulated as a bluntly theatrical stage play. Agonized modern figures now historically mythologized for the roles they've played in the technological advances that have shaped our daily existence as we now know are paraded grandly in these extended sequences, with Boyle and Sorkin leaning sharply into shorthand characterization. Though the format seems unique, the film actually cripples this limited portrait of Jobs, and relegates even his most important supporting players as free floating phantoms curiously popping up as each launch unfolds as if arriving from some Dickens parable.
Beginning with the launch of the Mac in 1984, we follow the behind-the-scenes process in the mere moments leading up to three notable products of Steve Jobs (Michael Fassbender). Assisted by his marketing executive Joanna Hoffman (Kate Winslet), his relationships with several key individuals change significantly in the course ranging from 1984, to the NeXT Cube in 1988 to the iMac in 1998. His early friend and partner Steve Wozniak (Seth Rogen) is on hand to witness the rise and fall and rise again of Jobs, while Apple chief executive John Sculley (Jeff Daniels) is on hand to provide varied degrees of emotional duress. On a messier note, Jobs siring of a child with ex-girlfriend Chrisann Brennan (Katherine Waterston), a responsibility he hardly wishes to recognize, causes significant bad press for him, and charts an eventual troubled relationship with daughter Lisa (Mackenzie Moss in the earlier segments, Perla Haney-Jardine by 1998), a child who grows up swiftly behind-the-eaves of her infamous father.
Grand scheme themes pertaining to control, parenthood, and destiny unfurl throughout each specific episode, each period attempting to convey an arc for Jobs as power plays fade, die, and resurge. Unfortunately, some of these are so bluntly administered it feels we're being spoon-fed the essence of Steve Job as if he were a blob of Jell-O. But it's through these themes Boyle and Sorkin try to convey something about him, such as his anguish over being an adopted child, his inability to commit to being Lisa's father, his endless capacity for himself, his reputation and career, etc.
But these repetitive tidbits only serve to highlight how much we really don't know in these backstage snippets. And since Jobs, gloriously presented warts and all, is nothing more than a self-consumed, overly aggressive bully, interest wanes even though Michael Fassbender gives an undeniably intense performance as a man cut from the same hubris cloth as key figures from Greek tragedies. But why certain people stay so committed to the periphery of Jobs is never explained, details that would've logically developed from moments in time between these launches. It's obvious Jobs takes all of them for granted, but it seems Boyle and Sorkin did, too. For instance, for those who've little idea of Steve Jobs and his trajectory, who exactly is that Polish lady Joanna Hoffman, played with delightful aplomb by Kate Winslet, an accent at the back of her throat (until one incredibly miscalculated scene in 1998 concerning Jobs' daughter)? Besides a handful of Jewish heritage jabs, we get little background on her, or why she even sticks around despite the fact they enjoy working together. In the third act, a vague sexual dynamic is planted with the subtlety of a cherry bomb, though the purpose seems an afterthought the screenplay had absolutely no time to inject earlier thanks to the constraints of the film's structure.
Based on Walter Isaacson's book of the same name, we get only rudimentary notions of Jobs relationships to other key figures here, such as ex-boss/CEO/father figure John Sculley and original collaborator Steve Wozniak. Less eminent figures are presented with the same degree of enthusiasm, such as the recurrent joke of the two 'Andy' characters, from Sarah Snook's public relations figure Andrea Cunningham (who doesn't age) to Michael Stuhlbarg's scientist/developer Andy Hertzfeld (another limited, though less problematic caricature from Stuhlbarg following his performance as Edward G. Robinson in Trumbo).
Hinged on a series of repetitive elements, from similarities between time-spanning interactions and utter banalities (punctuality, of course), Boyle's Steve Jobs doesn't address key issues transitioning between these three launches. After two sensational failures, why exactly, after a decade in time, did Jobs suddenly become poised in 1998 to usurp control of Apple? Besides a brief, whispery exchange between Winslet and Fassbender in the 1988 segment, we hardly get a sense of what the whole NeXT chapter was about in Jobs' grand scheme at vengeance, and unless you're a historical tech expert or a Steve Jobs guru, much of this may seem monotonously presumptuous. But, as a piece of archly written dramatic theater, Boyle presents a winning web of basic alliances and deceits that should make you forget you're watching certain instances that should have been explained better, especially since its finale is a race for the emotional manipulation bulls-eye. ★★½/☆☆☆☆☆