Not Without My Dukhtar: Nathaniel's Debut a Sobering Drama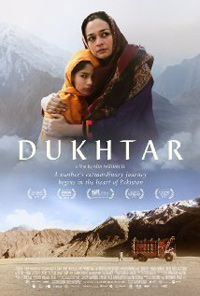 On paper, the premise of director Afia Nathaniel's debut, Dukhtar (Daughter), sounds like it has the potential to be emotionally exhausting. And while the situation it's depicting is certainly unsettling and upsetting, Nathaniel chooses to place the film in a more hopeful dwelling, something that works for and against the film. As concerns a woman striking out against her culture's repression of women in Pakistan, a community and country not often depicted in film, Nathaniel recalls Haifaa Al-Mansour's 2012 film Wadjda, about a young girl in Saudi Arabia. While we're not as emotionally engaged with the women at the center of this tale as in Al-Mansour's more light-treading film, the specific locale is what lends this otherwise slight tale some weight, crafted quite similarly to American women-in-trouble pictures showcasing women fleeing from abusive spouses.
In the mountainous regions of Pakistan, a pair of rival tribes seem locked in an endless cycle of vengeance. Tribal chieftain Daulat Khan (Asif Khan) pleads with rival leader Tor Gul (Abdullah Jaan) to make peace, to which Tor Gul accepts if Daulat Khan will offer his ten year old daughter Zainab (Saleha Aref) in marriage. Khan accepts, but his much younger wife Allah Rakhi (Samiya Mumtaz), whom he won through a similar arrangement fifteen years prior, seems to snap out of her stupor at the news. She refuses to let Zainab, who is teaching her mother English, be married off to a man that's old enough to be her grandfather, and so she escapes with her daughter in tow. This causes great drama amongst the tribes for Allah has dishonored both sides, and will be killed by whoever finds her first. Stowing themselves away on the top of a truck, they appeal to sympathetic driver Sohail for assistance. Begrudgingly, he agrees. But Tor Gul's men, along with an old suitor of Allah's, aren't far behind them. Meanwhile, the trio tries to reach out to Allah's own mother, who she hasn't been allowed to speak with for fifteen years.
Though hardly Sleeping With the Enemy (1991) or any number of other similarly minded titles, Dukhtar seems most important as evidence of the possibility of successful rebellion from one of many regions that still operate as if in the Dark Ages as concerns equality and female empowerment. This in itself, the possibility of this film's existence, is a powerful statement. However, it also has the aura of a first wave artifact, a novelty that wears thin during the film's second half.
Samiya Mumtaz manages to be rather mesmerizing as a soft-spoken wife that surprises herself with her own survival skills. In the film's most drastic moment, she places a gun to her daughter's head, announcing she'd rather kill the girl rather than return to the hell that awaits them. It's also the film's most distilled moment of clarity—these women in lands governed by tribal honor are still treated as cattle. But the film settles into a classic cat and mouse set of sequences, finally bringing us to the precipice of tragedy. A symbolic, heavy-handed (literally) device closes the film, that's about as touching as it is unforgivably cliché.
Reviewed on September 5th at the 2014 Toronto International Film Festival – Discovery Programme. 93 Minutes
★★½/☆☆☆☆☆