While We're Young: Roth's Revisits Grindhouse Home Invasion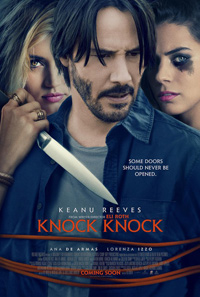 Genre director Eli Roth presents his first remake, Knock Knock, a rehash of a 1977 grindhouse thriller, Death Game (which starred Colleen Camp and Sondra Locke, both returning as producers), utilizing modern technology for this revamped mixture of home invasion nightmare and portrait of masculine anxiety. Entertaining as a bit of unintentional camp, Roth's inability to reign in over-the-top antics from his wildly uneven cast members doffs its queasy sexual overtones nearly as soon as they begin to develop. Headliner Keanu Reeves, along with Roth's own wife Lorenza Izzo, tend to run amok in a screenplay co-written by the director's clutch of Chilean acolytes Nicolas Lopez and Guillermo Amodeo. Salty, overly exuberant bits of dialogue only solidify the film's aptitude for off-putting ludicrousness, but for those inclined towards grungy, misanthropic portraits of cruel psychological games, it's not a complete loss.
Evan Webber (Reeves) is left alone for the weekend in his beautiful isolated home while his wife (Ignacia Allamand) takes the kids away to work on her newest art installation project. Though Evan's supposed to be working on his own creative endeavors, he's interrupted at night by a pair of young, rain-soaked women, Genesis (Lorenza Izzo) and Bel (Ana de Armas), who've mistakenly landed on his stoop in search of a party. Inviting them inside, things quickly escalate from polite to inappropriate. But as more time goes by, Evan realizes that these women come with significant strings attached.
The kinky home invasion thriller certainly isn't anything new and Roth fails to add anything innovative beyond injecting the obvious technological advances. While the original film is relatively obscure (though Seymour Cassel was the male lead), modern audiences will most likely find Roth's film to be a gender-swapped exploitational version of something along the lines of Michael Haneke's Funny Games (either version). The rain-soaked introduction of the young women is also reminiscent of the beginning of Tom Six's infamous 2009 title The Human Centipede (First Sequence). But this overly chatty bit of cheap titillation fails to instill any real meaning in its questionable feminist tendencies. For a more satisfying version of bizarre sexual dynamics mixed with unnerving psychological sparring, check out something like Curtis Harrington's 1967 film Games, wherein Katharine Ross and James Caan become involved with a strange new guest played by Simone Signoret.
Despite Reeves' sometimes embarrassing fluctuations in performance (his attempts at portraying an overly enthusiastic and loving father are a bit much, to the extent his preferred mode of emotional flat lining in The Matrix or John Wick seems praiseworthy), Roth does create a promising tone during the narrative set-up.
A bizarre and funny round of musical chairs ensues as Reeves' Evan evades the sexy ingénues, following him around his lavish living room space as the boundaries of polite exchange are quickly eclipsed by more basic nature. Unfortunately, the whole premise falls apart since the Reeves character is rather doltish (there are way too many red flags regarding their behavior to make his actions or the consequences of them meaningful) and the women are moronically evil, garden variety sociopaths along the lines of the killer teens from Them (2006).
With her thick accent and innocent coos, Ana de Armas comes off the most effectively, the stilted dialogue seeming less dubious in comparison to her co-stars. Roth's wife, Lorenza Izzo, who also appeared as a victim in the 2012 title Aftershock, though very beautiful, is often very grating as she lurches about in this unpleasant characterization of a woman way to silly to take her violent agency seriously. Compared to Roth's predilection for flourishes we've come to characterize as torture porn, thanks in part to his Hostel films, Knock Knock isn't as gory or violent as you'd expect. And yet it's a disappointment from a filmmaker whose technical prowess and genre appreciation would suggest something more effective.
★★/☆☆☆☆☆