West Side Story [Video Review]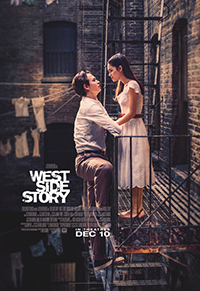 Definitely not a copy and paste job but there is indeed an air of familiarity that moves beyond the creative casting of actress Rita Moreno. Perhaps a musical thinly disguised as film history re-adjustment and updated version of the Broadway musical, Steven Spielberg updates a classic text by making cosmetic changes – not in terms of dance numbers or era technicolor shimmer, but by the way of ethnic and gender representation. This West Side Story is very much aware of Jerome Robbins and Robert Wise's version – and perhaps it is a conversation (sans subtitles) between the two films where one "autocorrects" the underpinnings of marginalization. Here is Nicholas Bell's review:
Film Credits:
Producers: Steven Spielberg, Kristie Macosko Krieger, Kevin McCollum.
Executive producers: Tony Kushner, Daniel Lupi, Rita Moreno, Adam Somner.
Director: Steven Spielberg.
Screenplay: Tony Kushner.
Camera: Janusz Kaminski.
Editors: Sarah Brosher, Michael Kahn.
Music: Leonard Bernstein, Stephen Sondheim.
Cast: Ansel Elgort, Rachel Zegler, Ariana DeBose, David Alvarez, Mike Faist, Rita Moreno, Corey Stoll, Brian d'Arcy James, Josh Andrés Rivera, Iris Menas.