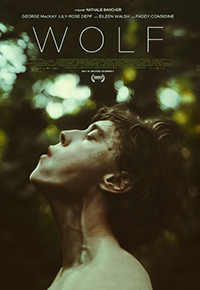 Oddly aggressive therapy tactics are the antagonist forces in a coming-of-ager drama that looks at a particular mental health disorder that is steeped in zoology. Premiering at the 2021 Toronto Intl. Film Festival, with her sophomore film, Nathalie Biancheri's prescribes a cognitive look at the coined condition of species dysphoria, and in order to soften this nocturnal nightmare/fairytale she infuses the text with a petting zoo array of kindred, animal spirits. George MacKay performance in Wolf (Focus Features releases the film stateside) taps more into the carnal, physical aspects of the character, but in many respects the sum feels surface level. Here is Nicholas Bell's review:
Film Credits:
Producers: Jessie Fisk, Jane Doolan, Nathalie Biancheri.
Executive producers: Stephen Kelliher, Sophie Green, Phil Hunt, Compton Ross, Celine Haddad.
Co-producers: Mariusz Włodarski, Agnieszka Wasiak.
Director: Nathalie Biancheri.
Writer: Nathalie Biancheri.
Camera: Michał Dymek.
Editor: Andonis Trattos.
Music: Stefan Wesołowski.
Cast: George MacKay, Lily-Rose Depp, Paddy Considine, Eileen Walsh, Lola Petticrew, Elsa Fionuir, Darragh Shannon, Fionn O'Shea, Senan Jennings, Amy Macken, Leo Hanna, Karise Yansen.