Don't Look Up [Video Review]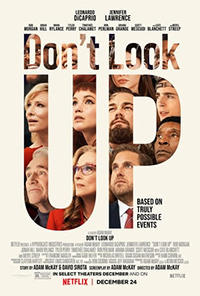 When an astroid is on a flight path to annihilate the human species, neither the cooler heads or those in positions in power prevail. If Melancholia romanticized the end of times with a more existential template, the archaic and effervescent eighth feature by Adam Mckay is more tongue in cheek than food for thought. Credit to the filmmaker for taking the gloss away from his the convergence of A listers who populate Don't Look Up, but high one wonders how some borrowed Altman-esque rhythms or pointed more self awareness of the politico system a la Wag the Dog might have made this les of a drop off from his previous more scornful a la The Big Short or Vice. Part of Netflix's December arsenal, this did not receive a festival premiere. Here is Nicholas Bell's review:
Producers: Adam McKay, Kevin Messick.
Executive producer: Jeff Waxman.
Co-producers: Ron Suskind, David Sirota, Jennifer Mandeloff, Cate Hardman.
Director: Adam McKay.
Screenplay: Adam McKay.
Camera: Linus Sandgren.
Editor: Hank Corwin.
Music: Nicholas Britell.
Cast: Jennifer Lawrence, Leonardo DiCaprio, Meryl Streep, Rob Morgan, Jonah Hill, Cate Blanchett, Tyler Perry, Mark Rylance, Timothée Chalamet, Ron Perlman, Melanie Lynskey, Michael Chiklis.