Reviews
Supermensch: The Legend of Shep Gordon | Review
Don't Menschion It: Myers' Debut a Loving Tribute to a Notable Friend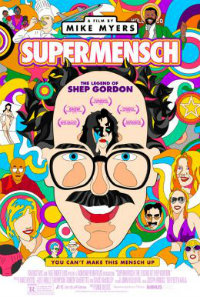 Those that savor uncomplicated glimpses into the oft castigated entertainment industry will most likely revel in the directorial debut of actor Mike Myers, the documentary, Supermensch: The Legend of Shep Gordon, which details the life and times of noted entertainment industry manager Gordon, a close friend of Myers. And it seems that the delightful and enigmatic Mr. Gordon has many other such friends, and from all walks of life. Certainly an engaging and dynamic subject, Myer's doc plays like a glorious love letter to a cherished friend and therein lies the rub. The man who, we're told, doesn't have a single negative thing to say about anyone, apparently has nothing negative to be said about him. And so, this rosy tinted doc, while certainly entertaining to watch and filled with fun anecdotes, perhaps would have benefited from a more detached perspective.
Beginning with Gordon's young adult life, which saw him abandon his goals as a probation officer and slough off into Los Angeles, we learn he just happened to check in the famed Hollywood Landmark Motor Hotel where he would inadvertently try to save none other than Janis Joplin from what he thought was an ongoing rape only to be slapped in the face. From there, he would be introduced to Jimi Hendrix, who advised him to be a manager, which led to Gordon managing Pink Floyd for about a week, and then, his first big gig, Alice Cooper, who he would manage to superstardom with clinched success on the wings of a torn up chicken. As Cooper's career took off, we visit a host of his other notable clients, including Anne Murray. Eventually, he would make personal friends with the Dalai Lama and his love for culinary arts would spark the invention of the Celebrity Chef. Fascinating, intriguing, and always energetic, Shep Gordon has led a fascinating life and managed a successful career, the only aspect eluding him seeming to be his wish to sire a child.
A host of famous faces appear in Supermensch, and 'mensch,' of course, being the Yiddish word for a person of honor and integrity. Much beloved, Mr. Gordon certainly seems to be a definite anomaly to the regular stereotypes we see frequenting the entertainment industry, and his humble, thankful attitude is generously appealing.
A mentionable relationship with Sharon Stone in the early 90s gets considerable heft but the blonde beauty is one of the few names mentioned that doesn't appear. Her absence, in light of everything else, could raise an eyebrow, but maybe only for the curious cats. Myers strikes a playful and peppy tone with his feature, moving quickly through a multitude of events in his friend's life. Eventually we come to when they met, which was in 1991 on the set of Wayne's World when Myers wanted the rights to a Cooper track and there were some slight disagreements. However, they became such close friends that in a period of need, Myers actually went to live with Gordon for about two months at his home in Hawaii. Seemingly the real deal, it's a fascinating glance at the work of a well-connected man that many outside of the industry have never heard of. As far as documentaries go, it's a loving tribute from one close friend to another.
★★½/☆☆☆☆☆