Moralificent: Stromberg's Debut Gets a Dastard Disney Straitjacket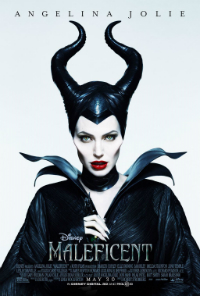 Anticipation has been extremely high for Disney's live action dedication to one of their most enjoyably memorable cartoon villains, Maleficent, particularly for the inspired casting of Angelina Jolie as the evil fairy queen. To many, it will come as no surprise that the end result is a highly 'Disneyfied' treatment, calibrated specifically for the enjoyment of children and family friendly crowds demanding neutered entertainment. Not only are we treated to grandiloquent moralizing, but an overtly insistent redemption of a villain that, at least in cartoon form, was thankfully absent.
We begin in a land where two opposing forces reside side by side. There is a kingdom, ruled by a greedy king, whose denizens are generally unhappy, and the magical lands known as the moors, where everything fantastical lives in peace, governed by themselves. One such creature is a kind, young fairy named Maleficent, and one day, a thieving boy child named Stefan crosses into the moors, where he is detained by some angry looking creatures made of foliage and root. Maleficent coaxes him to release his booty, and they become friends. As years fly by, she grows into a creature of considerable beauty (Angelina Jolie), while he becomes more and more enamored in the greedy world of man (Sharlto Copley). They still love each other, but he generally visits less often.
One day, the persnickety old king makes good on his vow to conquer the moors, which ends in the slick defeat of his men. Maleficent proves to be a considerable foe, and the dying king proclaims that anyone that can kill her will inherit his kingdom and his daughter. And so, Stefan dastardly drugs Maleficent and cuts off her wings, which sends her into a spiral of anguish and wickedness while he ascends to the throne. As she bides her time for vengeance, she creates a sidekick out of an old raven, Diaval (Sam Riley), who informs her that a child has been born in King Stefan's kingdom. As the story goes, Maleficent arrives at the christening and delivers her deadly curse concerning a spindle, the girl's sixteenth birthday, and the non-existent concept of true love as the only antidote to an incurable slumber. Stefan orders three fairies (Juno Temple, Imelda Staunton, and Lesley Manville) to raise her in secret as he destroys all the spindles in the kingdom. But Maleficent watches young Aurora grow into a beautiful young woman (Elle Fanning), and ever so slowly, her icy heart begins to melt.
The presence of visual artist Robert Stromberg, here making his directorial debut, is a glaring indication of the lack of narrative surprises in store for us. It will be an excellent addition to his resume, and simply for preparing a preordained meal. True, Linda Woolverton's screenplay, which follows in the footsteps of Frozen's gynocentric narrative, delivers an inspiring message with its refreshingly strong willed female protagonists, but its glaring fault is its indecisiveness toward its eponymous malefactor, whose very name means to do evil or harm. The attempt to have it both ways simply does not work by making her a hero and a villain isn't satisfactory, at least not in the fashion presented here.
The casting of this wronged female as a victim of circumstance in a cruel, male dominated world is just too simple. Surely, the opposite would have been the case as well—she's a being that has a heart, but, in the same frame that many of our best cinematic villains have passed through, it's been irreparably warped. It's just too disappointingly elementary, considering this was the role that many craved to see Ms. Jolie rip to shreds.
Also like Frozen, it's refreshing to see a considerable effort made to deflect silly notions of true love as something that miraculously happens when handsome young men and women chit chat after one casual encounter. As far as this treatment goes, it's a worthwhile twist. But after Maleficent's tragic and savage butchering, which hardens her heart, any real development in her characterization ends there, afterwards reducing her to a series of flippant comments designed solely for easy laughs.
The symbolism of a man cutting off the very appendage that grants her advantageous power and joy over earthbound men is a powerful and significant occurrence. Be warned, those wishing to see Maleficent rend her bitter vengeance over the world of men will be discontented. Not only is this an uncomplicated lesson in turning the other cheek, she's redeemed of any unsightly responsibility at all in the final situation involving the wicked king.
Despite some magnificent poster art featuring the stunning Jolie, often framed from low angles to highlight those shellacked cheekbones on that exquisite face, the cartoon version, voiced superbly by Eleanor Audley in 1959, trumps the visual reincarnation here. Audley's booming remonstrance, "Fools!" will forever haunt the tunnels of any child's subconscious lucky enough to experience that memorable incarnation before this watered down malediction. As the credits roll over the numerous visual effects credits (despite the blighted looking fairies as they are in small form, pains were taking to create a grand spectacle, though one that's not enhanced by 3D), the melancholy lilting of Lana Del Rey covering the "Once Upon a Dream" track from the original film floods the theater. It's eerie, haunting, and would have been a powerful closing track for a film that deserved such a moody ambience.
★★/☆☆☆☆☆