Reviews
Take Me to the River | Review
River of No Return: Sobel Brings Scent of Southern Gothic to the Mid-West with Stellar Debut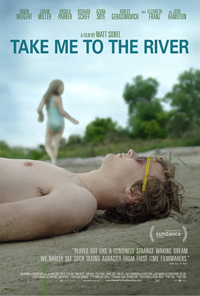 Family reunions have tremendous potential as battlefields for dysfunctional reparations, and provide easy arenas for comedy or drama to flourish. Director Matt Sobel draws upon the decidedly uncomfortable sort with his debut, Take Me to the River, an astute collision of adolescent anguish, coming-out suppression, and rural redneck nightmare all rolled into a flammable powder keg that leaks incendiary fumes but never builds to explosive relief. Age old juxtapositions, such as the sinful worldliness of Californians vs. corn-fed Midwestern white values, are enhanced by the dramatic charge of queer tensions Sobel compellingly conjures. Sure to make you squirm thanks to a reservoir of debauched sexuality lurking underneath the thin veneer of respectable propriety, Sobel culls a handful of startlingly realistic performances from a fine cast.
17-year-old Ryder (Logan Miller) is on his way to a family reunion in Nebraska with his parents Cindy (Robin Weigert) and Don (Richard Schiff). It's a get together that seems oddly tense, and maybe overdo, at least gathering from Cindy's anxious behavior. Ryder is concerned about coming out of the closet to his extended family, but his parents believe it's not the time or place to reveal his sexual orientation, especially considering these Mid-West relatives already seem wary of their 'California mindset.' Grudgingly, Ryder agrees, but is immediately treated like the family black sheep by his cousins. And his uncle Keith (Josh Hamilton), Cindy's brother, seems incredibly suspicious of Ryder, irritated one of his four daughters, Molly (Ursula Parker), has taken an instant shine to her cousin's pronouncedly different way of doing things. An incident in the barn when Molly and Ryder are alone instantly causes severe tension amongst the family members, and Keith asserts his daughter has been touched inappropriately by Ryder. As the reunion wears on, strange truths are revealed.
Beginning in the hopeful and progressive vein of something like Joan Micklin Silver's Big Girls Don't Cry…They Get Even (1992), whereby a misunderstood teenager's rebellious antics draws her extended family together despite variable differences, Take Me to the River veers quickly into Sebastian Silva territory of increasingly uncomfortable group dynamics.
Logan Miller, who appeared in Reichardt's Night Moves (2013) as well as Kyle Patrick Alvarez's The Stanford Prison Experiment (2015), gives a discerning performance as a teenager determined to be recognized and accepted as the young gay man he is, foiled at every turn because the very nature of his identity threatens the cohesive balance of the conservative status quo. The reunion isn't meant to be a platform for Ryder's personal issues, you see. Instead, it makes him an easy target for his relatives' chiding, baffled at his uncustomary attire, such as fashionable sunglasses and short shorts.
What Sobel handles with excruciating poignancy is Ryder's agitated relationship with his mother, played beautifully by Robin Weigert (of Stacie Passon's excellent Concussion, 2013). Stuffing her discomfort with her son's sexuality underneath nervous, breathy laughter, eventually we clue in on the more intensely dysfunctional familial dynamics adding to her distress. Though Ryder's wish to be acknowledged for who he really is amongst blood relatives is justifiable, his mother is one of two people who knows sharing this will only cause considerable strife due to other unresolved issues.
Sobel keeps the discomfort at a constant simmer throughout and it never quite boils into the full blown hysteria we're expecting, even though it veers into the type of familial strife we'd expect in a Pat Conroy novel. Miller, who recalls a less self-loathing version of the Jonathan Groff character from Kyle Patrick Alvarez's C.O.G., is equally gallant as he is frustrating and foolhardy. But once Sobel instills a Take Me to the River with its palpable sense of dread, the film remains perched on a tense ledge.
Its lack of an explosive finale (something much more strange and subtle transpires) may deny audiences a sense of clear cut resolution. But as Queen's oddly fitting "Under Pressure" plays over the closing credits, perhaps moving on without much ado is less satisfactory but ultimately necessary when resentment and bitterness overrides such possibilities.
Reviewed on October 26 at the 2015 NewFest Film Festival – 84 Mins.
★★★½/☆☆☆☆☆