The Power of One: Nichols' Sci-Fi Studio Film a Wispy Homage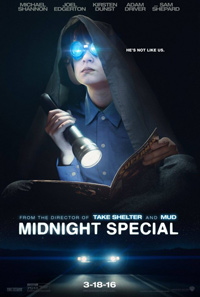 Indie director Jeff Nichols makes his first crossover to studio fare with Midnight Special, his auteur clout securing the film a competition slot in the prestigious Berlin International Film Festival just prior to a stateside release. Returning once more with his frequent collaborator, actor Michael Shannon, who has appeared in all three of his previous films, it is a particularly specific homage to popularized names like Steven Spielberg and John Carpenter, particularly from their early, celebrated period of genre infused event filmmaking in the early 1980s. But this highly uneven and distressingly cold narrative never manages to finds its stride, complete with a cast of anemic characters who never come to life behind the notable visage of well-known actors.
Roy Tomlin (Shannon) has abducted his biological son Alton (Jaeden Lieberher) from the religious cult he grew up in. With the help of his best friend, Lucas, a Texas sheriff (Joel Edgerton), they aim to deposit Alton at a specified location perceived to be a potential apocalyptic event by the cult, while the FBI has determined the young boy to be a threat to national security since he has been picking up on secret governmental codes. But Roy believes his son, who has been raised by the cult leader Calvin Meyer (Sam Shepard) since childbirth, is an important life force who must be freed from mankind's selfish designs. Reuniting with Alton's mother (Kirsten Dunst), who also fled the cult some time ago, the quartet eludes law enforcement and Meyer's minions to arrive at a predetermined location, though Alton's health is quickly deteriorating.
What's most disconcerting about the subdued potential of Midnight Special are all the disparate parts so mercilessly squandered, particularly the intriguing religious cult run by Sam Shepard (who previously appeared in 2012's Mud), a congregation of Amish-like Branch Davidians who worship numbers and coordinates spooling out of their own personal prophet. We forget them promptly after the opening act, with the exception of the unwearied hound dogs who periodically appear to flex their muscles with little result. Little by little, we learn politely hewn details about these characters, how they came to be involved in the flight of Alton and the importance in guiding him to an event some believe to be Judgment Day for mankind. Increasingly, we're led to believe the other theory, which promises the event will include the arrival of beings from another realm intent on scooping Anton up to the Ayn Rand-Tomorrowland like existence where he belongs.
With the exception of the usually intense and determined Michael Shannon, who gets peripherally fingered in the film's genetic subplot/subtext a la Stephen King's Firestarter, all of these characters are too vague to be emotionally engaging. Even the precocious, preternatural Alton is more of a cipher, especially considering the very personal traumas Nichols cites as the film's inspiration, an element which may explain a neglect for all else in the wispy thin narrative which draws too heavy a comparison to titles like E.T. and Close Encounters of the Third Kind, to the degree Midnight Special seems less like homage and more like derivative. Kirsten Dunst and Joel Edgerton fall to the wayside as blurry familial/friend figures who hardly seem to matter at the end of the day.
The plucky Adam Driver gets some energy out of his usually dependable persona, but is used too often to fill in loose gaps (such as an instance where he circles a bunch of miscellaneous coordinates in red and miraculously, without explanation, discovers where the band of fugitives are actually headed). Likewise, other details are equally dismissed whenever convenient, such as why Alton is believed to be allergic to sunlight and how he's miraculously cleared of this potentially hazardous affliction.
Lacking any sort of emotional core, we could hardly care less about who Alton is or where he's going. Nichols, utilizing big budget effects during several instances, doesn't iron these into the fabric as a visual advantage. Rather, his smaller scale concept doesn't seem to work on the broadening canvas, and something more intimate, with more practical, ingenious effects might have seemed less underwhelming. Considering it is the product of Jeff Nichols, Midnight Special seems more of a disappointment than a similar Spielbergian retread J.J. Abrams attempted in 2011 with Super 8.
Reviewed on February 12th at the 2016 Berlin International Film Festival – Competition. 115 Mins.