Boulevard Ballads: Baker's Enigmatic Journey into Hollywood's Facade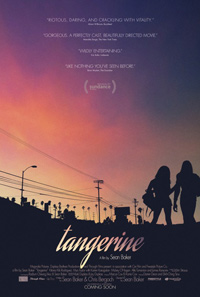 For those familiar with the cinematic offerings of Sean Baker, it will come as no surprise that his latest feature, Tangerine, focuses on a group of people defined, in part, by a specific locale, but are generally invisible as cinematic subjects. Hardly banal or niche, his work avoids labels by refusing to adhere to them, rather focusing on the "regular people" (as those in this current title are also described) within the frame. Crackling with an infectious, garrulous energy, he deposits us in the captivating hands of two black, transgender hookers that journey back and forth from Sweetzer to Vermont Avenue along Santa Monica Boulevard over the period of one sun-soaked Los Angeles day. On paper, these labels sound crippling, but Baker is hardly a steward of melodrama, and transcends any and all assumptions with this title that recalls the wayward freedom of his 2008 Prince of Broadway mixed the emotional resonance of his 2012 breakout success, Starlet. Centering his portrait of Hollywood's 'underbelly' are two incredibly fierce performances from newcomers Kika Kitana Rodriguez and Mya Taylor. In an age where, slowly but surely, the invisibility of varied transgender lives and voices are finally being explored with seriousness and integrity, Baker has crafted a glorious poem that never shies away from harsh realities even as it celebrates the vibrant dreams, desires, and lives existing within in a city stereotyped for its apathy and sterility as concerns human connection.
Two friends commiserate in Donut Time on the corner of Highland and Santa Monica Boulevard in Hollywood. The conversation between Sin-Dee (Kiki Kitana Rodriguez) and Alexandra (Mya Taylor) reveals that the former has just been released from a twenty-eight day stint in lock-up, and we quickly realize they're both transgendered hookers that make-up part of a subculture of people partially defined by this particular area in Los Angeles. It's Christmas Eve and Alexandra accidentally reveals to Sin-Dee that her boyfriend Chester (James Ransone) has been anything but faithful to her while she was locked away. Enraged at his infidelity, Sin-Dee immediately sets off to find out who exactly Chester has been cheating with (it turns out to be a white hooker named Dinah, played by Mickey O'Hagan), which alarms the more serene Alexandra, who wishes to focus on her upcoming vocal performance at the West Hollywood Hamburger Mary's later that evening. While Sin-Dee stomps off down Santa Monica Boulevard to cut through the seedy swath of Hollywood, Alexandra goes her own way, picking up a trick or two on her way to where she needs to be later. Meanwhile, we catch glimpses of Armenian cab driver Razmik (Karren Karagulian), a married man who is a regular client of Alexandra and several of her friends, and he's excited to learn that Sin-Dee has been released.
Lightly comedic but astutely realized, its mysterious title is never explained, though Alexandra buys Razmik a tangerine car freshener we catch a brief glimpse of, something to mask the stench of a drunk passenger's vomit. It perhaps relates to a telling line from Razmik's mother-in-law, who describes Los Angeles as a 'beautifully wrapped lie," and thus Tangerine is an ode to euphemism as a flavor, a scent that masks the grimy surfaces and smells of the city's urban realities. Baker seems to prize representations of subcultures in his unique offerings, and here we get a rarely seen glimpse of transgendered and Armenian cultures, two of the many 'subs' that make up the sprawling Los Angeles scene dominated by representations of itself in cinematic offerings.
Drawing comparisons to the filmography of John Cassavetes, Baker exudes a ragtag sensibility of multiple perspectives, converging into a divine madness within the same Donut Time locale by the film's finale. But if Cassavetes is an easy reference, Tangerine also carries allusions to Greek mythology, with Sin-Dee's journey through the hellish realities of seedy Los Angeles reminiscent of Orpheus as she struggles to reclaim her lost, misguided love, Chester (played quite convincingly by Ransone). Sin-Dee must overlook certain unpleasant truths about his misdeeds, (one twist which is a complete surprise), and much like Orpheus, she can't look into the past, or she'll lose him forever.
Making their film debuts are Kiki Kitana Rodriguez and Mya Taylor, polar opposite personalities that work as perfect foils. Written by Baker's regular scribe Chris Bergoch, they share a delightful banter, performed perfectly by a breathless, beautiful Rodriguez, while the equally stunning Taylor has all the allure of those melancholy starlets of the Hollywood studio era—her moving performance in the nearly empty West Hollywood restaurant is a partial culmination of her creative desires, made all the more profound by her melancholy musical selections, as if she belonged to a different time and place. Even for those not familiar with the particulars of their existence, it's hard not to conceive falling head over heels for their vibrant characterizations. Baker also includes regular members from his milieu, such as Karren Karagulian, and, yes, that's famed character actor Clu Gulager credited as The Cherokee, one of Razmik's several Christmas Eve passengers.
Most discussions of the film will be bound to focus on the fact that Tangerine was filmed on an iPhone. The resulting film is staggeringly superb, and the title could just as very well refer to the citrus colored Los Angeles skyline as we fade through the hopes and dreams of one sun-soaked Tinseltown dream into the dark realities of the day's inevitable end, in part due to returning DoP  Radium Cheung. And yet, Baker ends his film with a moment of incredible endearment. Priceless, beautiful, and emotionally rich, Tangerine is not to be missed.
Reviewed on January 23 at the 2015 Sundance Film Festival – NEXT Program. 88 Mins.
★★★★½/☆☆☆☆☆