Those Who Wish Me Dead [Video Review]
The Fire This Time: Sheridan's Neo-Western Arrives Lifeless, Overbaked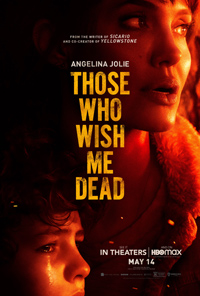 Casting is an important part of the filmmaking process, and sometimes the highest profile celebrity headliner is more a curse than a blessing. Such is the first immediately apparent issue with Those Who Wish Me Dead, the third directorial outing for the multifaceted Taylor Sheridan, an adaptation of the novel by Michael Koryta, scripted by the author and Charles Leavitt (Warcraft, 2016) before Sheridan inherited the material, starring Angelina Jolie as a Montana smoke jumper.
The conjoining issue is a revisionist narrative cobbling together too many tangents without bothering to deliver any characterization, the resulting tempest devolving into the signature violent face-offs prized by Sheridan but without any emotional investment and, therefore, no real payoff.

When a forensic accountant (Jake Weber) realizes a pair of assassins (Aidan Gillan, Nicholas Hoult) are on their way to Jacksonville, Florida to kill him and his preadolescent son Connor (Finn Little) following the murder of his boss, a Fort Lauderdale D.A., he absconds to Butte, Montana for assistance with his brother-in-law Sheriff, Ethan (Jon Bernthal). The killers anticipate his move, leaving Connor to wander the Montana wilderness, where he encounters smoke jumper Hannah (Angelina Jolie). While they try to make their way to the authorities, the killers start a raging forest fire, which threatens to consume them all.
Jolie's otherworldly beauty, while arguably a fount to be tapped for action franchise material (she was, after all, the 'originator' of the video game Tomb Raider adaptations), is clearly not correctly presented to be believable as a smoke jumper (a profession recently outlined to better effect in the middling family comedy, Playing with Fire, 2019). Suffering from a lone recent trauma of three children dying in forest fire whose trajectory she incorrectly gauged, we learn little else about Hannah as a person, other than her character once dated Joe Bernthal's sheriff, Ethan, a situation which doesn't amount to much of anything.
Ben Richardson's cinematography is sidelined by both the special effects laden forest inferno and Jolie's own shimmery glow as a well-hydrated woman of the woods whose vanity is clearly prohibitive. Some sequences are reminiscent of the Nicholas Ray classic Johnny Guitar (1954), wherein star Joan Crawford refused to be photographed outdoors in natural light. There's a sense of similar distraction here, the sort of pains taken to accommodate a star more focused on her own image than the reality of the narrative.
Unfortunately, the remainder of Those Who Wish Me Dead also resides in a superficial either, like a vaguely attenuated John Grisham legal thriller wherein instead of the protagonists we share most of our screen time with a pair of unknowable villains.
Aiden Gillen and Nicholas Hoult are thrown into old school vs. new sociopath dynamics, but this is a far cry from the brutal territory of something like Eric Red's Cohen and Tate (1988). As their boss, a sinister Tyler Perry, while welcome in this against-type casting, only creates more nagging questions the screenplay lazily plays with. Like many of Sheridan's scripts, allegiance with a supporting character granted immediate situational empathy (like Bernthal in Sheridan's Wind River, 2017) remains a given, here presented in the form of Medina Senghore as a pregnant survivalist. Although her sequences may arguably be illogical, her presence creates an energy sorely lacking in most of the film.
Far from the zenith of something like his script for Hell or High Water (2016) or either of the Sicario (2015, 2018) films, Sheridan remains interesting for his attraction to shattered adults grueling their way through dangerous trauma—and perhaps he'll likely eventually master directing his own scripts. Those Who Wish Me Dead, like Sheridan's treatment of Tom Clancy's Without Remorse (2021), fails to deliver the requisite characterization or narrative energy necessary to remain interesting or memorable.
★½/☆☆☆☆☆