How Does It Feel, To Treat Me Like You Do?: Franco Flies Into Traumas of Totalitarianism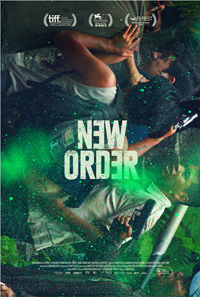 It's a sign of the times, wherein an apocalyptic vision of corrupt powers and raging class divides in something like New Order, the latest from Mexican provocateur Michel Franco, is most terrifying because rather than depicting turmoil of the past or suggesting friction of the future it evokes a grim portrait of our potential present.
A much broader, more ambitiously grueling exercise from Franco, who has heretofore stressed the claustrophobic intensities of intimate dramas focused on tortured protagonists sabotaged by hierarchies and relationships of trust, it's a riveting social issue horror film which begins with a tenuous world on a wire before transcending into the roiling hell beneath its façade.
As compelling as it is distressing, Franco's latest maximizes his intentions of extreme discomfort and dismay, evoking a world which could easily be a reality, where survival always exists solely for the benefit of those who can afford to, and selflessness and redemption are merely notions which ensure vulnerability and demise.
As a violent protest turns into a working class uprising on the streets of Mexico City, Marianne's (Naian Gonzalez Norvind) wedding is about to take place at her wealthy family's home in a posh neighborhood. As they await the judge, the swank revelers are all consumed with themselves. Marta (Monica Del Carmen) announces to Marianne's mother Pilar (Patricia Bernal, mother of Gael Garcia Bernal) the husband of a former employee from seven years prior is at the front gate, humbly requesting a large sum of money to pay for his wife's emergency surgery—the massive city wide protests forced them out of the public hospital into a private clinic.
Pilar does what she can, but barely provides a fraction of the funds he needs. However, Marianne remembers his wife fondly and embarks on a strenuous attempt to collect the remaining funds, resulting in her leaving the estate with Marta's son Cristian (Fernando Cuautle) to take the woman to the clinic herself. The judge arrives just as all hell breaks loose at the wedding party, with most of the party attendees slaughtered. Marianne is stranded overnight with Cristian, and the next morning while attempting to go home, she is apprehended by military police and kidnapped, shuttled off to a compound where other wealthy citizens who had been caught outside their neighborhoods are tortured, raped and demeaned until their relatives pay the ransom. But Marianne's wealthy family is intent on finding her.
New Order does not play like a narrative specific to Mexico or Latin America, the universality of a trenchant and ever-widening class divide familiar to every industrialized economy in a globalized world assists in the narrative essence of what allows this to feel as riveting as it does (a passing bit on Palestinian servitude attempts to expand the toxic horizons, for instance).
Rather than 'eating the rich,' the lower classes are continually victimized in a vicious circle whilst the upper echelons inadvertently finance the uprisings which will ensure their own irrelevance and demise. The control of information through violence and propaganda are the tools which usher in the military rule, and rising nationalism can evolve into the totalitarian powers fashioned into the 'new order' of the title by the end credits. Along the way, the narrative intensity and fluctuating empathies ratchet up a tension which eventually wears one down into exhaustion, which may be the point of Franco's overall filmography, many of whom decry as repellant or exploitive.
With his latest, Franco stumbles into the simmering violence which has marked several of Amat Escalante's features, the protégé of Reygadas whose 2008 debut Los Bastardos feels like a prequel to New Order. Shot with roving intensity by Yves Capes (Holy Motors, 2012), and featuring Franco regular Monica Del Carmen (After Lucia, 2012), and Dario Yazbek Bernal (one of the unfortunate siblings from his grueling debut, Daniel y Ana, 2009) New Order isn't likely to win over any of the director's detractors, but there's no denying it's power to impressively disturb and gall its audience by hitting too close to home in its examination of the selfishness of humans and their apparent self-fulfilling prophecy of annihilation.
★★★★/☆☆☆☆☆
Reviewed virtually on September 13th at the 2020 Toronto International Film Festival. Contemporary World Cinema – 86 Mins