Spiral: From the Book of Saw [Video Review]
Spin Spin Murder: Bousman Returns to the Good Book in Franchise Tangent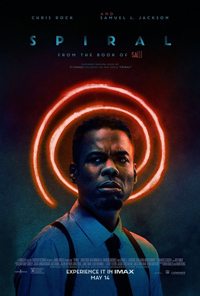 There's perhaps little glory in holding the distinction of being the 'best' entry in an easily dismissed horror franchise, but Spiral, aka Spiral: From the Book of Saw (just to make it clear) arguably vies for contention.
Director Darren Lynn Bousman, who usurped the reigns from James Wan following the first 2004 title with the second, third and fourth chapters, returns to the fold with an enjoyable, if utterly predictable rehash which at least takes pains to reestablish its origins as social issue horror (albeit, masquerading as the torture porn these films helped establishing as a norm).

At its center is a formidably enjoyable Chris Rock performance, who assisted in the story development (although screenwriting credit goes solely to Jigsaw scribes Josh Stolberg and Pete Goldfinger) and executive produced, to present another sordid tale of dirty deeds done dirt cheap and the karma boomerang destined to destroy us all.
A serial killer copycatting Jigsaw is stalking and killing corrupt NYC cops. Assigned to the case is Detective Zeke Banks (Rock), a pariah in his department for turning in a corrupt colleague twelve years prior when his father, Marcus (Samuel L. Jackson) was Captain. Although he has the sympathies of his current boss, Angie Garcia (Marisol Nichols), she's grown weary of his rogue sensibilities, assigning him rookie detective William Schenk (Max Minghella) to assist in this latest high-profile investigation. As bodies pile up and Banks receives direct messages from the masked killer, clues begin to suggest the culprit is dangerously close to home.
In the post-Jigsaw world, this is a rather loosely conjoined narrative which references the dead serial killer but seems more interested in aping Tarantino, from Rock's opening monologue about Forrest Gump, to a Kill Bill styled seedling to the Pulp Fiction reference apparently paying homage to Samuel L. Jackson (who's entertaining, but his red herring status perhaps explains why we receive so few interactions with Rock, even though they're usually the best moments of the film).
Rock is smoothly entertaining, even when his co-stars are not, including a rigidly docile Max Minghella and gruff Marisol Nichols ("Riverdale"), who shouts all her lines in a style akin to Tura Satana. As an exercise about punishing corrupt members of law enforcement, Spiral certainly primes audiences for timely catharsis, but the dwindling and eventually insipid third act detracts from these subversive themes. Of course, a higher production quality than nearly all the preceding Saw films certainly helps and DP Jordan Oram assists in elevating the film's more elaborate sequences (even if Toronto never quite looks like New York).
Fans of the elaborate torture kills for characters who 'deserve' their punishment will certainly enjoy the handful of set pieces—but one wonders how Spiral could have elevated itself even further by spending as much time bolstering the narrative with the same finesse.
★★½/☆☆☆☆☆