Growing Pains: Lund's Debut a Gem of Behavioral Regression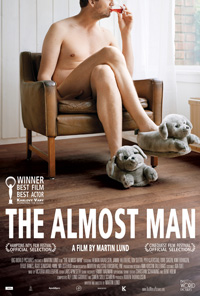 The long hard road to growing up and accepting responsibility takes the center stage in Martin Lund's simply and astutely observed tale about one thirty five year-old man's coming of age episode, The Almost Man. While certainly not unfamiliar in scope, Lund delivers a charmingly realistic portrait of the dogged, insistent clamp many of us try to retain on those carefree days of young adulthood with a film unhampered by requisite hypersexualization and stylized vulgar antics to meet the entertainment quota of the lowest common denominator.
Goofy, playful, and seemingly never serious, Henrik (Henrik Rafelson) currently enjoys a carefree life alongside his live-in girlfriend, Tone (Janne Heltberg Haarseth). They have just moved into a new apartment meant to foster the next, more adult chapter of their life together, and Henrik has landed a new marketing position. While everything seems peachy, the stimulus of these new situations finds Henrik acting out in bizarre adolescent fashion, such as getting testy with some of Tone's colleagues at a work party, which leads to him urinating in one of their cars using an illustrated picture book of Peter Pan (get that irony?) as a tool in this act of vandalism. Catching him in the act, Henrik flees the party to go hang out with his buddies, a group of chummy men he's obviously known for years. Previously we've seen them bonding in the locker room after squash, engaging in towel snapping and other homosocial fraternizing. They happen to be throwing their own party, which looks and sounds exactly like a group of out of control teens as they pee off balconies, show off genitalia, play music too loudly, and eat party snacks while they make out. Disaster strikes when it turns out the neighbor below happens to be one of Henrik's new co-workers, which ends in a physical altercation that will most likely have disastrous effects in Henrik's work environment. Stumbling back home, the next morning a dismayed Tone has some important news to give him, which doesn't seem like such good news after he explains just what he got up to the night before.
What places Lund's The Almost Man immediately ahead of similar films of its ilk is the believable pairing of man-child Henrik and a gorgeous and level headed woman like Tone. He's charming in his goofy way, and they're often seen laughing and being playful together, but it is obvious Henrik doesn't know where to draw the line. In one of these establishing sequences, they dance to a song as they unpack in their new living room. "I want to see you dance without irony," she asks. It's clear that Henrik consistently hides behind a goofball, immature demeanor both as a defense mechanism and as an outlet to act out spurts of aggression. This acting out then only seems weird, bizarre, and unwarranted, and Henrik is easily frazzled at these judgments, though woefully incapable of communicating what's really wrong. Mustering the courage to apologize to his co-worker, he doesn't seem to appreciate the contrariness of his statement that "I'm not the sort of person who does things like that."
Henrik Rafelson, who some may recognize from his equally winning turn in 2011's Happy, Happy, gives a delightfully nuanced performance as a man that's not always easy to like. He won Best Actor at the 2012 Karlovy Vary Film Festival (while the film took home the top prize). As his girlfriend, Janne Heltberg makes her screen debut, proving to be an arresting and delightful find. While The Almost Man, in essence, only concerns one night of very poor decision making skills, Lund and Rafelson create a much more complicated character study. With a variety of 90s sounding club music and pop songs, Lund seems to convey that Henrik is hardly alone in his desire to stay in a carefree headspace.
With a running time of about 75 minutes, The Almost Man manages to be a touching, charming, and incredibly astute sophomore film following 2010's Twigson Ties the Knot. Lund's film is peppered with moments of simple delight, and reaches a crescendo of male bonding when a group of Henrik's friends attempt to assuage their cross friend at a bus stop by blaring a warbly cornball cover of "I Will Always Love You" until he agrees to get in the car. Lund's vibrant film is a breath of fresh air.
Reviewed on April 15 at the 2013 Disappearing Act European Film Festival.