Reviews
The Angriest Man in Brooklyn | Review
Prognosis Negative: Robinson's Return a Detached, Tepid Exercise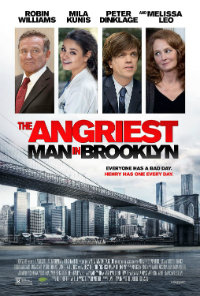 His first outing since the ill-fated 2002 film The Sum of All Fears, director Phil Alden Robinson's latest, The Angriest Man in Brooklyn, is a remake of a 1997 Israeli film, The 92 Minutes of Mr. Baum, which happened to be part of a trilogy directed by Assi Dayan. At first appearing to be a black comedy about miserable, self-pitying human beings, a not-so-subtle message about the importance of family, enjoying one's time and appreciating the preciousness of life, eventually cascades over the slim narrative, rendering any emotional or comedic potency to absolute zero. With a running time of about 80 minutes, this treatment still feels padded with moments that feel utterly useless because they're not fully developed or simply used as a matter of convenience.
Henry Altmann (Robin Williams) is an unhappy man. Home life seems particularly dire, unable to have relations or communicate with his wife, Bette (Melissa Leo) presumably since one of their sons died in a car accident a few years prior. Their remaining son, Tommy (Hamish Linklater), hasn't spoken to his father in two years because he abandoned the family business for dancing. And so, continually angry at the world, Henry has one particularly bad day which begins when he is blindsided by a taxi driver. Demeaning the other driver with a racial slur, he then is forced to wait two hours in a doctor's office before the attending physician, Dr. Sharon Gill (Mila Kunis), has time to see him. However, she is having a rough day of her own. Sharon's cat recently jumped out the window of her high-rise to its untimely death, a creature that Sharon seems to care more for than her patients. Overworked, she's covering for another doctor that's taken the day off (a married man with whom she's recently had relations) and seems to have developed a dependence on pills to get through the day. Ere goes, the meeting of two frazzled minds doesn't jive when the already fuming Altmann learns he has a brain aneurysm, and the flustered doctor mistakenly tells him he has about 90 minutes to live. As he storms out of the hospital, the doctor pursues him once she gathers her bearing.
Despite its starry ensemble of pros, no one seems to elevate the film's pulse. To be certain, we've seen Robin Williams in angry manic mode a number of times before and his embittered Henry Altmann is hardly the angriest man in Brooklyn. Rather, he's just your garden variety dink whose current miserable existence is based on one tragedy that spiraled into a series of events and unfortunate behaviors that distanced himself from his long suffering wife and estranged son (a beginning scene set in 1989 showing the happy family in a park seems unnecessary). His inane monologue, spouted to a homeless man after a grating scene where he purchases the camcorder from a stuttering James Earl Jones, feels incredibly false, even more so because while the homeless man replays it, the frantic doctor played by Kunis just happens to overhear it in her search for Altmann.
The omniscient narration of Kunis and Williams serves to collapse time and characterization, but seems rather slovenly, even though the effect returns in the finale through their alternation of each other to hint that they've grown beyond their own selfish spheres. For her part, Kunis manages to be more effective than would be at first presumed. In fact, an exploration of her character in the world of the harried medical professional feels like a more fruitful plot than Williams'. Cavalcades of other notables feel underutilized, including Leo, Peter Dinklage and Hamish Linklater. Other bit players like Louis C.K and Jones pop up briefly. In a bid to keep us entertained, the events leading to the grand finale, a family reunion, keep getting more outlandish and unrealistic, which serves to further distances us from feeling any sort of way at all about these people as they navigate through the modern human predicament of selfishness and lack of empathy for others.
★/☆☆☆☆☆