Huffin & Puffin: McLean Continues Flaccid Exploration of the Menacing Aussie Outback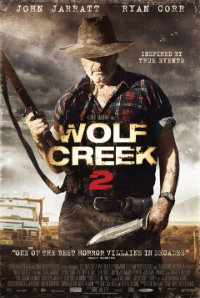 Tourists are again reminded that the Australian Outback is a statistically menacing place in Wolf Creek 2, which is of, course, Greg McLean's follow-up to his 2005 indie horror hit Wolf Creek, lauded by the likes of Quentin Tarantino for the psychotically delightful lead performance from John Jarratt, returning here. Not nearly as eerie as the first installment happened to be, indebted as it was to the Texas Chainsaw Massacre franchise, McLean revisits the same formula with just a titch of variance. Insistently straightforward and plodding along inevitably despite some attempts to mix things up a bit, those looking for more of the same torture porn antics should be sated, but anyone hoping for something beyond the generic formula will be a bit bored.
Laughably opening (once again) with a smattering of statistics after the eerie 'based on true events' slogan arrives, it seems rather redundant to state that many of the people that go missing in Australia are never seen again. Yawn. And specific to several of these never-to-be-seen-again cases is purportedly contemptuous yokel Mick Taylor (John Jarratt), who is so impervious to the law he may as well have magic powers. In this go round, McLean and co-writer Aaron Sterns don't mind being unforgivably silly, beginning with the two cops (of your standard a**hole breed) who meet their untimely demise when they cross paths with Taylor, first inspecting the dismembered pigs in the back of his truck before becoming the butt of that joke. And details like this go on and on, usually in obvious soundtrack selections such as Patsy Cline's "I Fall to Pieces" while a young male victim gets dismembered, or The Tokens' "The Lion Sleeps Tonight" during an extended car chase where McLean tries to outdo the kangaroo abuse from Wake In Fright (1971)—albeit a scene that also happens to be visually engaging and one of the film's best.
As if trying to meta-mutate Arabian Nights, we get fed 'behind-the-scenes' conjectures from the missing persons pot, before the final victim, in similar fashion, is strapped to a chair and forced to sings songs and play trivia games concerning Australian history or else lose appendages. This gets old real fast, and Wolf Creek 2 feels like a lazy bid to cash in on the Ozploitation success of the first film.
Taylor gets his customary diatribes about foreigners (a naïve German couple and helpful British lad, here) before lapsing into dialogue about there being two types of people in the world, "people like me and people like you…" and so on, and so forth. Jarratt, it almost goes without saying, is an entertaining screen presence, and his main victim here, played by Ryan Corr, does manage to perform as an actual character. But despite attempting to go against the grain and focus most of the torturous heft on a male victim, for once, McLean leads us to a rather silly finale with an addendum that basically admits the film is the account of a madman….Or is it? Perhaps we will have to see what Part 3 brings.
★★/☆☆☆☆☆