Blue in the Face: Amalric's Simenon Adaptation an Exquisite Enigma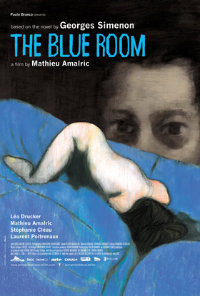 Though actor/director Mathieu Amalric's last directorial effort, On Tour (2010), landed him a Best Director win at the Cannes Film Festival, it never received US distribution. Thankfully, his latest effort, an adaptation of Georges Simenon's novel The Blue Room, won't be subjected to the same neglect, as it's an elegantly staged exercise of what could have easily been a straightforward nourish tale of adultery and murder. Pared down to a regal running time of barely eighty minutes, Amalric's film is cinema of sensation, a puzzle of subtlety detailed accents and various, deliberate textures. Swift and intoxicating, by the time its final implications have been announced, what's left is a sense of paralytic comprehension, a goading motivation for a second viewing. It's depiction of an adulterous affair is icy, complicated, isolating, but it's a thrillingly and strikingly photographed film.
We spy a pair of sweaty lovers in the eponymously colored room, the fading summer light creeping in through a slim opening in the shutters, a busy world outside fluttering past. Tangled sheets and intertwined limbs slowly focus into the faces of Julien Gahyde (Amalric) and Esther Despierre (Stephanie Cleau). Their conversation reveals that they're both already married, and Esther seems keen to extend the commitment of their relationship. Their room is above the pharmacy that her husband owns, a man suffering from a seizure disorder. All three of them went to school together, which we learn as the film switches to Julien being interrogated by the law (Serge Bozon). We weave back in forth between the tempestuous, eleven month affair, and the present, which we deduce has resulted in the murder of someone, though we're not sure who, at first. Julien's wife Delphine (Lea Drucker) begins to feature prominently in flashback, and very deliberately, a dark puzzle comes together.
"Life is different when you live it and when you go back over it," Amalric's Julien explains to his interrogator, a drolly understated Serge Bozon, a director himself of such notable films as La France (2007) and Tip Top (2013)—Amalric also includes director/animator Blutch as a psychologist. And so we begin to eagerly anticipate fluctuations in Julien's narrative as he's questioned over and over again about his relationship to Esther.
Presented magnificently in Academy Ratio, Amalric expertly utilizes cinematographer Christophe Beaucarne, each frame a stunningly sensual tapestry, houses and rooms framed within frames, views through windows that add an impressive depth of field, aided by the often crashing score from Gregoire Hetzel. A host of mesmerizing shots will haunt you, like one of the film's most vivid, the couple making love in their room during a rainstorm, windows flung open, lightning revealing their naked bodies together. Recounting their initial slippage into the adulterous affair as they're both pulled over by the side of a road in autumn, wind swirls, music swells, with hair and leaves flying asunder as their lips meet.
Passion is articulately rendered, but the initial heat sparked in the opening sequences quickly fades. Like the plump insect that rests in a pool of sweat on Esther's abdomen, life virtually evaporates into the walls, as we zoom to a close-up of the wall print in the blue room which features a pattern of the same insect.
Stephanie Cleau, who helped adapt the screenplay, is also Amalric's real life partner, which perhaps enhances the carnal energy apparent in their torrid affair. Author Georges Simenon (Fabrice du Welz's Alleluia features a slight homage to him) is one of France's greatest mystery writers, his pulpy psychologies akin to the mindset of Patricia Highsmith or Ruth Rendell, and there are several notable adaptations of his work from France, including Patrice Leconte's Monsieur Hire (1989) and Cedric Kahn's Red Lights (2004).
Amalric's The Blue Room easily equals their ranks, a handsome example of cinema's visual abilities. When asked to describe exactly his 'desire' for Esther, Julien exclaims, "More words!" Indeed, in lust and love, actions speak louder, and it is actions that Amalric aims to show.
★★★★/☆☆☆☆☆