Reviews
The Cleaners | 2018 Sundance Film Festival Review
Behind the Curtain: Block & Riesewieck Reveal the Trade of Internet Moderation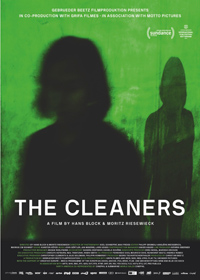 For the past decade, censorship on social media has been an increasingly hot topic in the international community and yet those who do the actual censoring are vastly underexplored due to massive contractual secrecy. While freedom of speech is debated in public forums, malleable personal moralities dictate what material is considered unlawful and obscene in various parts of the world (such as violence, pornography, and political content), ultimately controlling what is accessible and docu-pairing Hans Block and Moritz Riesewieck's The Cleaners provides a unique and startling dive into the whys and wherefores of content moderators, the conditions in which they work, and the effects that their work has on the world-at-large.
With striking visuals echoing a Strange Days-esque techno-thriller aesthetic, there are no minced words in the shadowy life of an internet content moderator. Meshing stock footage, traditional interviews, email correspondence, direct observations of subjects' private lives, and digitally created landscapes, the film is a substantive peek behind the wizard's curtain. The filmmakers explore why the moderators first took the positions, what determines their choices, the effects of seeing such a volume of questionable content, and then contrast these perspectives against industry experts, artists, journalists, community leaders, activists, and former leading employees of Facebook, Google, and Twitter. This hodgepodge of opinions are also matched against the real-world consequences of manipulating internet content, from stopping the spread of child pornography and terrorist content, to manipulating public opinion on contemporary crises like the Rohingya genocide in Myanmar, and the extrajudicial killings in the Philippines.
As if Naqoyqatsi were made by Errol Morris, The Cleaners possesses astounding intrigue and a constant dangerous atmosphere, consistent through its editing, score, cinematography and animated sequences. Editors Philipp Gromov, Markus Schmidt, and the great Hansjörg Weißbrich manage to successfully instill repetitive existential dread, lingering on unsettling and tragic details without sacrificing its pacing. Most segues are artfully done, keeping interest taut as the narrative jumps around, managing to connect most segments back to one another. The musical team of John Gürtler, Jan Miserre, Paradox Paradise, and Lars Voges (all of whom scored 2015's Above and Below) have composed an eerily haunting accompaniment, whose blending of genres through wheezing chord progressions perfectly mimics the dark tone of the visuals.
Max Preiss and Axel Schneppat's cinematography blends traditional interviews, on-the-street rawness, giant sweeping drone photography, and poetic symbolism to produce a relatable contemplative image reflective of the mental states of the subjects. Schnellebuntebilder's animation helps contextualize the litany of technological jargon and allow easier digestion of the film's complex theories.
The filmmakers' contrast of the censored and the censors make this already complicated issue even murkier, even for those who are already steadfast in their opinions. However, Block and Riesewieck make it abundantly clear via the epilogue text, that this doc epxlores stories of these individuals and that they "deserve our biggest thanks". Though its interviewees, rife with contradictory moralizing, make no evident steps to address any issues presented, The Cleaners is a cautionary exposé on internet censorship and accountability, and a rumination on how subjectivity determining the accessibility of online content should not continue as the status quo.
Reviewed on January 27th at the 2018 Sundance Film Festival – World Cinema Documentary Competition. 90 Minutes
★★★★/☆☆☆☆☆