Reviews
The Company You Keep | Review
Return for Redford as Actor/Director in Heated Political Thriller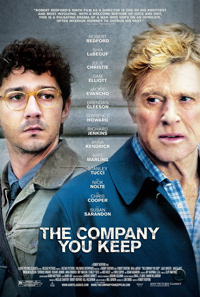 Robert Redford, the actor, has been a staple of American pop culture for half a century, his golden smile and wet eyes long ago solidified as iconic. As a director his work has been more sparse with years passing between projects. His newest, The Company You Keep, has him returning to the dual role of director/star alongside a nearly endless stream of world class actors (Julie Christie, Susan Sarandon, Chris Cooper, Brendan Gleeson, Terence Howard…). The film follows Redford as a fugitive on the run after his cover is blown by a pesky small town journalist, Shia Labeouf. Though it can at times overplay its political leanings, The Company maintains a steady pace and engages.
As Ben Shepard, Labeouf brings a sincerity, a depth and roundness to a character – the youthfully determined journalist – all too often played with one-dimensionality. Shepard is after the story, though it's not always clear he knows why. At first, he uncovers something that bolsters his non-existent professional profile, and so is wrapped up in his own self-promotion. But as time passes, and Shepard begins to educate himself, the clearly delineated lines of right and wrong are blurred and he finds himself unsure of who he sides with, and who he should help. Sharon Solarz's (Susan Sarandon) arrest brings about a series of events that lead to Shepard's discovering the true identity of attorney Jim Grant (Redford), which sends Grant on the run, with Shepard never far behind.
Solarz appreciates Shepard's youthful aplomb and grants him her only interview. In this, one of the film's most inspired scenes, Sarandon picks apart the young journalist's naive arrogance, and amoral political leanings. When talking about what "the struggle" meant during Vietnam, Shepard snidely remarks, "It sounds groovy," "It was hardly groovy," she responds, more annoyed then playful. It borders on the didactic but nonetheless successfully conveys that someone who has not lived through a war could possibly understand the sacrifices and the changes in values it brings about. When Solarz explains that doing nothing is a form of violence, Shepard can hardly find a response; this is beyond him and he knows it.
The chase moves around the country, with Grant stopping in various places to pick up clues in search for an old flame (Christie) who he believes can clear his name. He stops in on old friends, all of whom wax poetic about the old days. When Grant arrives in Chicago to see a former activist, now professor, Jed Lewis (Richard Jenkins), Jed is reluctant but finally acquiesces and agrees to help. As they walk around a museum, constantly worried about being tailed, Jed opines that after his lectures, "They (the students) turn, they clap, then they update their Facebook statuses and forget all about it." It's this sentiment that alienates instead of bridging the gap between generations; The Company doesn't try to tie in the Occupy movement, or any other global occurrence that has taken place in the last decade. This is a story of the past, and, unfortunately, it makes little attempt to be in the present.
Still, The Company You Keep chugs along with enough chase scenes and near misses to satisfy. Brit Marling comes in late as a potential love interest to Labeouf and as things reach a boiling point, it is a moral question (someone has to turn themselves in) that stands at the film's centre. Each character must choose their own moral path and its that choice that will determine their fate.
Reviewed on September 14 at the 2012 Toronto International Film Festival – Gala Presentation.
125 Min