Head in the Game: Landesman Continues to Plumb the Headlines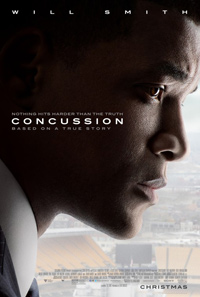 Films based on notable or landmark pieces of newsprint tend to face an uphill battle in various phases of assembly, especially when the screenplay relies on tried and true bits of cliché to supply missing links in characterization. Compared to his 2013 Kennedy assassination reenactment Parkland, director and screenwriter  Concussion, headlined by none other than Will Smith (in another instance of questionable casting) as a Nigerian born pathologist in the center of a medical controversy involving the NFL in the early 2000s.
Landesman, basing his film an article in GQ by Jeanne Marie Laskas, does his best to convey the seemingly insurmountable challenges Dr. Bennet Omalu, a foreign born immigrant, faced in bringing his discovery of CTE (Chronic Traumatic Encephalopathy) to light, defying big business America and one its most beloved and brainless pastime, the aggressive, perniciously violent contact sport known as football.
In 2003 Pittsburgh, Pennsylvania, pathologist Dr. Bennet Omalu (Smith) is assigned the autopsy of Mike Webster (David Morse), a once prolific football hero who died homeless and alone after displaying years of unhinged behavior. Noting nothing physically wrong with the man to explain the behavioral trajectory, Omalu orders a series of expensive tests and discovers Webster's brain suffered substantial injuries thanks to repetitive head trauma while playing football. Soon, several other deaths of noted football players adds evidence to Omalu's diagnosis, yet the NFL refuses to acknowledge these findings and attempts are made to discredit the physician.
In 2015, it seems laughable to realize the lack of logic and awareness concerning football and eventual head trauma. Much like the barbaric sport of boxing, wherein humans pay big bucks to wager bets or stand around gawking and cheering as two people punch at each other until one collapses, Dr. Omalu's research following the autopsy performed on Steelers' player Mike Webster (an empathetic David Morse) would seem to reveal the obvious—to be pummeled violently and continually on the cranium results in significant damage to the brain, especially considering a human's anatomy is not constructed to withstand such blunt trauma. But whatever powerful sense of righteousness Landesman's screenplay does eventually reach, Concussion is just as often robbed by hammy dialogue. "God doesn't want us to play football," concludes Smith's perseverant outsider, in a performance as unwavering as it is unfortunately one note.
The good news is, we eventually settle into Smith's Nigerian accent, however, the same can't be said for anything else concerning his character considering we don't grow accustomed to the achingly formulaic romance developed between him and eventual wife Prema, a throwaway doe-eyed role for the incredibly talented Gugu Mbatha-Raw (Belle; Beyond the Lights).
James Newton Howard's delirious score promises the type of thrills we'd see in a John Grisham adaptation, and every so often Concussion manages to be compelling. But Landesman, no stranger to adapting either news articles (Trade, 2007) or high profile media items (Kill the Messenger, 2014), seems to be doing too much with too little, painting Omalu and his wife's characterization in blazing broad strokes. Omalu sounds like the saintly Sidney Poitier character from Guess Who's Coming to Dinner? (1967), overeducated and overqualified for any person or situation he comes into contact with, making him the perfect foil for the ignorance and xenophobia he comes to face when presenting scientific proof as concerns the potential health dangers in playing professional football.
As such, his backburner subplot to secure US citizenship (which, as the end credits tell us, finally happened in early 2015) and begin a family with his wife seems like an update of Lorraine Hansberry—they're clearly not welcome in the close-knit communities of Pittsburgh. Unfortunately, Concussion also draws comparison to another reenactment from an early 2000s headline dealing with journalistic woes vs. staunch city traditions, Boston's Catholic priest sex abuse scandal documented in Tom McCarthy's Spotlight.
With a great supporting cast, Landesman captures likeable turns from the likes of Alec Baldwin and Albert Brooks, (both personalities played to their particular strengths), and smaller, less notable moments from Eddie Marsan (who attempted to vanquish Will Smith in 2008's Hancock), Adewale Akinnuoye-Agbaje, Stephen Moyer, Luke Wilson, Arliss Howard, and Richard T. Jones.
Though the NFL would eventually concede to these findings, the cultural impact was diminished due to a settlement allowing the corporation to leave their knowledge of when and how they became aware of brain damage to football players unpublished. Like referenced litigation against Big Tobacco in the 1990s and the eventual widespread acceptance of smoking as a leading cause of cancer, the discovery of CTE as a result of playing football hardly seems to have toppled an industry. On the contrary, much like smoking, it's a past-time apparently too potent for people to abandon. But one can't help but draw parallels between football players and the marine life on display at Sea World captured in Gabriela Cowperthwaite's documentary Blackfish (2013), another arena where living beings whose health risks are severely downplayed or undisclosed just so Americans can continue to be entertained.
Reviewed on November 10 at the 2015 AFI Film Festival – Gala Presentations. 121 Mins.
★★½/☆☆☆☆☆