Damned If You Do: Garcia's Creepy House Horror a Non-Entity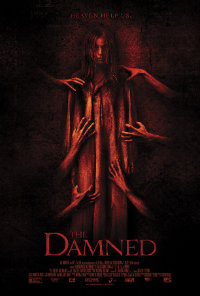 For some strange reason, IFC Midnight decided to release direct-to-DVD pro Victor Garcia's latest film, The Damned (originally, and more colorfully titled Gallows Hill) in theaters, even though its questionable quality clearly doesn't support such conviction. Tiredly cliché and doggedly dull, its existence begs one to inquire, who the hell is the audience for these lifeless films, filled with cheap flourishes and routines so commonplace that you can sleepwalk through its checklist of events?
David (Peter Facinelli), an estranged father attempts to retrieve his daughter Jill (Nathalia Ramos) in Bogota, where she is vacationing with her aunt (Carolina Guerra) and a cameraman (Sebastian Martinez) turned boyfriend. About to be remarried, this time to his fiancée, Lauren (Sophia Myles), there's vague tension between father and daughter relating to the mysterious death of Jill's mother. A heavy rainstorm drives them into the wilderness and they seek shelter in a towering old home isolated in the woods. An old man lets them in, asking that they stay huddled in the common area while he gathers wood for a fire. But they hear the cries of a young girl locked in a box in the basement. Unwittingly, they unleash her.
To many, Facinelli is simply a bit player from the Twilight franchise, embarrassingly forced to sport a terrible blonde mop as he gracelessly sputters through the chewy scenery with all the other supporting cast members. But Facinelli was once a serviceable B-player through the 90's and naughts, and actually made his screen debut in Rebecca Miller's 1995 debut, Angela. While he's experiencing a bit of resurgence thanks to the blight of YA adaptations, apparently that visibility only goes so far because The Damned is forgettable in every conceivable regard. It's generic new title and exotic locale in Bogota recalls a similarly dull 2012 supernatural thriller from Puerto Rico, The Condemned.
The opening snippets of dialogue, which lays the groundwork for the non-extensive backstory of its characters, is as smooth as the set-up for many a Jean Rollin title, ridiculous dialogue lazily dubbed with awkward pipelaying. A rain storm basically washing them in to a monstrosity of a home has all the right set pieces to create an appropriately gothic mood, but this never transpires. We learn that the house used to be a hotel in the 1970s….called Gallows Hill, one of those great movie details that doesn't bother to assert that no one in their right minds would ever stay in such a place, much less hang out for the rain to abate. But then, who wants to be a stickler for the little details?
There is an eventual bruja (a witch) who body hops a la the demon in Fallen (1997), and foreboding bits of dialogue like "some secrets can destroy everything you love" attempt to reach some sort of botched majesty in its final moments from the omniscient narrator. Dead inside and out, this is like many other countless numbers of horror films flooding the market, an exercise for a developing filmmaker that has no business being sold for entertainment.
½/☆☆☆☆☆