Criminal Intent: Leonard Done Light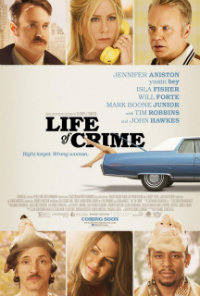 What remains most enticing about Daniel Schechter's Life of Crime is its connection to Quentin Tarantino's 1997 masterwork, Jackie Brown. While Tarantino adapted Elmore Leonard's Rum Punch, Schechter takes on the earlier work of The Switch, which features the younger version of three key characters from the later novel, here existing in 1978 Detroit. A bit too light to register the same malevolence (though apparently Schechter is more in tune with Leonard's style than Tarantino), and inanely marketed as a 'caper comedy,' Schechter takes a rather familiar premise and turns it into a completely enjoyable, utterly innocuous film. Inbal Weinberg's production design turns the late 70's into a glossy postcard of kitsch, not unlike her similar rendering of the 80s in the primped The Perks of Being a Wallflower, which only furthers the film's highly sanitized feel.
Frank Dawson (Tim Robbins) is an unethical real estate developer, having skimmed over a million dollars off his bogus maneuverings, socking the funds away into a secret account. His unhappy and unawares wife Mickey (Jennifer Aniston) has no idea about all this extra money, or that Frank has a girlfriend in Florida, Melanie (Isla Fisher). Instead, she only finds her husband to have turned into a repugnant slob that swills booze at the country club, where he demeans her while they watch their increasingly distant son play tennis. But change is on the horizon, for a pair of hoods has discovered Frank's scheme and plan to kidnap his wife when he's next out of town and demand a million dollars ransom. Only, they have no idea that Frank plans to divorce his wife and hardly seems keen on paying a million bucks for a woman he already doesn't want to see again.
Apparently, plans to make this novel originate back to 1986 when it was pitched as a vehicle for Diane Keaton, but its similarities to Ruthless People stopped progress. Schechter's version feels like a missed opportunity, a fuzzy tuft of a film that may have felt more resonant had it been more along the lines of some more barbarous crime classics with more complex characters. Instead, the film's comedic edge is almost cartoonish, and as funny as the film tends to be, all possibilities of menace seem far removed. However, even with its impotent narrative, the main cast members are quite engaging, with Aniston and Hawkes proving to be a quite likeable pairing. Once again, Aniston proves to be quite adept outside of the rom-com vacuum, and it's a reminder of how engaging she can be when working outside the mainstream.
For any that recall Samuel L. Jackson's sinister portrayal in Jackie Brown, they may be a bit disappointed in the saccharine performance of Mos Def, while Isla Fisher's Melanie (played by Bridget Fonda in the earlier film) is just another rendition of the ditzy succubus we're accustomed to seeing her portray. Mark Boone Junior and Will Forte fill out the weird little universe of supporting characters and both would have benefitted from more screen time.
Like the shard of the marmalade jar that gets lodged in Aniston's foot early on, Life of Crime lets sugar seep into where it could be pouring salt. At the end of the day, it's a film that deserves to be more memorable than the bland title renders it.
★★★/☆☆☆☆☆