Circles in the Sand: Benson & Moorhead Latest Low-Fi Genre Hybrid another Mixed Bag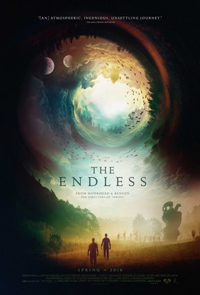 For a film as fascinated with notions of differentiation as The Endless seems to be, it certainly has a difficult time charting its own cohesive course. The third film from American indie duo Aaron Moorhead and Justin Benson once again shows no shortage of narrative ambition in this sort-of sequel to their 2012 micro debut Resolution, focusing on a pair of brothers (played by the directors) ten years after they escaped from a death cult.
Prizing meta philosophical themes on a decidedly micro playing field, this chewy Lovecraftian oddity benefits greatly from an extended enigmatic set-up, playing with expectations as it builds an anxious aura of menace as to the purposes of a cult so desperate to gain the trust and obedience of two sheep who once left the fold (and the invisible beastie which seems to hold them all in thrall). But as the eventual complexities of what's actually going on in the narrative universe are revealed, Moorhead and Benson's plot gets bogged down in overly mannered explanations, and some extensive exposition oddly peppered with drastic shifts between comedy and despair unnecessarily bloats a running time for a film harping too plainly and obviously on messages about life lessons, familial bonds, and the dread human survival tactic, fear.
Brothers Aaron (Aaron Moorhead) and Justin (Justin Benson) have been struggling to move on from the cult they escaped, at Justin's behest, a decade prior. When a tape arrives on their doorstep with a message from their former family, the brothers realize perhaps they were wrong to flee, considering the cult members hadn't actually planned to commit mass suicide as they'd suspected. Aaron, critical of the less than desirable life they've led since leaving the cult, insists they return to the fold to investigate, and Justin reluctantly agrees to accompany his brother. They quickly fall into old patterns, with Aaron immediately embracing the teachings of their old leader (Tate Ellington), while Justin remains uneasy. It's not long before the brothers realize something supernatural may be the actual entity in charge, and they are forced to challenge their preconceptions of the cult and themselves in order to avoid repeating a perilous cycle of servitude.
An opening quote from H.P. Lovecraft concerning mankind's greatest fear being the fear of the unknown sets us up for the inspiration of The Endless (and by default, perhaps a bit of the philosophical side of Stephen King, an author also inspired by the same sources). At the same time, it's a theme addressed a bit too plainly later on, when the film's title begins to explain some of the film's narrative parameters.
A fittingly foreboding score from Jimmy Lavalle coerces us into an appropriately unbalanced mood, while the notion of a Cthulhu like being tantalizing the cult members ("It's not a cult, it's a commune," Aaron contends) is delicious indeed, especially as this greater being communicates with them directly via visual images ("It shows us what it sees," we're ominously told), meant as a way to teach them about themselves (not unlike the person terrorizing the French suburban family in Haneke's Cache, 2005). But as it's forced to define the nature of the beast, The Endless becomes another one of those convenient time loop oddities, stuck somewhere between the confines of Nacho Vigalondo's Timecrimes (2007) and the standard reference Groundhog Day (1993).
The more it attempts to explain, the less persuasive The Endless becomes, which is also a critique (at least for some) of their 2014 film Spring, which was enthusiastically beloved by audiences appreciate of the unique tone and flavor of Benson and Moorhead. At the end of the day, this all boils down to controlling one's own fear, and the day-to-day groove some people find themselves in may be the same kind of endless, monotonous time loop as those who have been sucked into a death cult directed by an otherworldly being forcing them into testing their limits.
With writing credits going to Benson, the duo also produced, photographed and star in this homegrown endeavor. Arguably, certain moments dependent upon special effects to convey the complex visualizations of this particular universe might have played better if they'd kept it even more spare (like a Shane Carruth, for example).
Overall, The Endless is a welcome reprieve from the problematic and predictable glut of English language genre films we've become accustomed to (for an example of how not to attempt a time loop parallel universe, see Adam Wingard's Blair Witch, 2016). However, since it lacks characters one is led to care for and drops a plot device which succeeds in draining rather than building tension, this mixed genre surprise yields mixed results.
Reviewed on April 21 at the 2017 Tribeca Film Festival – Feature Narrative. 111 Mins.
★★½/☆☆☆☆☆