Reviews
The Great Man | 2014 TIFF Review
A More Accurate Title Might Have Been The "Good" or "Serviceable" Man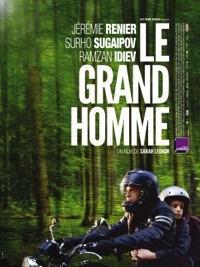 Much like Kathryn Bigelow does with many of her works or like Jasmine Yuen Currucan did with the underrated Australian thriller, Cactus, French helmer Sarah Leonor has focused the attention of her sophomore feature, The Great Man, entirely on men. It's a decision that creates subtext in itself, raising questions about motivation and perspective on the subject and the characters. Is it, as the title suggests, a fantasy projection about an idealized performance of masculinity or could it be more facetious in nature?
In short, it doesn't appear to be either; at least not directly. Divided into chapters, each titled with a different name, shifting character focus and reiterating the fluidity of identity consistent throughout, this socio-politically conscious drama starts amidst a trajectory defining situation. Legion soldiers Markov (Surho Sugaipov) and Hamilton (Jeremie Renier) wind up amidst a crossfire while out on an impromptu leopard hunt. After Hamilton is shot and nearly killed, Markov risks his own life to save him at the expense of his own dreams of gaining French citizenship.
From here, the story fragments into different perspectives: Markov reunites with the son he left with family friends after fleeing a war-torn Chechnya; his son acclimates to a father he doesn't remember; and Hamilton indulges in a life free from responsibilities. What these interconnecting stories have in common is the idea of identity and manhood as an uncertainty, shifting definitions and surface signifiers as necessitated by survival.
Though the didactics clearly chastise a French social climate that forces these hardworking soldiers to break rules to obtain a better life, Leonor smartly leaves overt preaching at bay in favor of quiet character observation. How these men interact with each other and how they change is linked to traditionalist male values grounded in honor and loyalty or the idea that a life saved is a life earned. In a way, Hamilton's identity is sacrificed (or given meaning) when confronted with the responsibility of fulfilling an unspoken obligation for Markov. He steps in at a key moment to help Markov's son, thus helping shape the boy's perception of manhood and the importance of maintaining integrity.
Leonor's style is both observational and polished, injecting every scene with the anodyne minutiae that breaks up and modifies conversation and human interaction in the real world. There's a looseness to these situations that allow these men to respond and react to everything going on around them, heightening their depth while diminishing some of the condescension associated with overly political subject matter.
Of course, this style and this refusal to indulge in any sensational narrative contrivance also means that The Great Man comes across as slight. It's rarely compelling but it's often intriguing.
There's also the question of gender. If the intention here is to give focus to French immigration laws and the sense of alienation those without a national identity face, then why are there no female characters? It's also worth noting that these "great" men—though the title is deliberately singular—are somewhat archetypal, being idealized versions of what a father figure, even one that's absent, should be. Is Leoner implying widely established gender dynamics without showing it? Does the absence of a maternal figurehead reinforce the role of man as caregiver and solider (both figuratively and literally here)? Perhaps the secondary commentary here is that men can only be great when confronted with the responsibilities traditionally thrust upon women, such as raising a child.
Leonor's style never suggests that she's criticizing or judging her characters. There are no subversive juxtapositions to demonstrate hypocrisy or absurdity. She's merely watching those outside of the status quo band together to create an ersatz family, which suggests curiosity and exploration. While successful in raising some valid questions about the role of refugees in present day society and laborious in illustrating France's socio-political status, there's ultimately too little narrative complexity or payoff for The Great Man to linger on after the end credits.
Reviewed on September 5th at the 2014 Toronto International Film Festival – Discovery Programme. 107 Minutes
★★★/☆☆☆☆☆