Reviews
The Imitation Game | Review
Cracking the Code: Tyldum's English Debut Delivers Thrills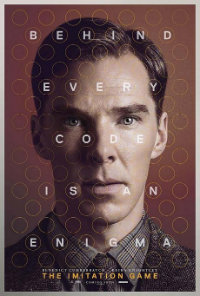 Although mathematician Alan Turing OBE was responsible for creating a machine capable of solving the unsolvable Nazi enigma code, and in turn saving millions of lives during WW2, his importance is oft unrecognized in history books due to his arrest for 'indecency' (the charge given to homosexual behavior) and the secrecy of his work. Sixty years after his death, he has been granted a royal pardon, and now with the release of The Imitation Game, his vital contribution can be celebrated. Morten Tyldum makes an impressive English-language debut with a code-cracking wartime thriller with a starry, punchy line-up of British acting talent.
Benedict Cumberbatch plays Turing, who is summoned to Britain's code-breaking center, Bletchley Park, to lead a team in finding a way to decipher Nazi communication. As they say, there are 159 billion combinations for each code received daily, so to try to intercept all of them would take years. He is aided by Hugh Alexander (Matthew Goode), Joan Clarke (Keira Knightley), John Cairncross (Allen Leech) and Peter Hilton (Matthew Beard) who work to try to recreate a machine Turing described in an undergraduate thesis, one that could break any puzzle. But time is running out and the Nazis are closing in.
The Headhunters (2011) helmer brings his own brand of quick-paced thrills and humor to the proceedings. Although there is no attempt to explain the inner workings of Turing's machine, it's easier to sit back, accept that something flawlessly clever is going on, and then enjoy all the running about and the plethora of Eureka! moments. Cumberbatch is well-suited to the role of Turing, combing hints of BBC's Sherlock to his performance while making the part his own. He delivers a nuanced and intriguing character study showing the tortured genius; an antisocial and humorless maths nerd and closet homosexual, who struggled to conceal his nation's secrets as well as making sure his own didn't get out.
Knightley also impresses as Joan Clarke MBE, who had to hide the fact that she was helping Turing by working as a typist in a nearby office, and later became engaged to Turing just to keep up appearances. Her own achievements rising to the top in a male dominated field mark her out as an early campaigner for equal pay in the workplace.
The history behind the film is particularly fascinating, reminding viewers that 48,000 men were convicted for their 'indecency' and prescribed hormonal treatments to 'cure them', that in Turing's case, made him impotent and most probably contributed to his suicide at the age of 41. Drawing attention to this tragic reality and to the importance of recognizing Turing's unique talent for mathematics is something long overdue in the media, and is artfully realized here.
Aside from the importance of applauding these unsung war heroes and putting forward an ongoing plea for gay and women's rights, The Imitation Game is above all an entertaining and lighthearted thriller.
Reviewed on October 8th at the 2014 London BFI Film Festival – Opening Night Gala. 113 Minutes
★★★ 1/2 /☆☆☆☆☆