Your Friends & Neighbors: Kusama's Enjoyably Tense Cult Thriller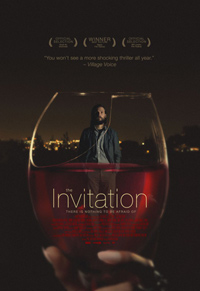 Since premiering her phenomenal, Michelle Rodriguez starring indie debut Girlfight in 2000, Karyn Kusama hasn't lived up to early prognostications. One of the few women directors with a big budget studio effort to her name, the ill-fated Aeon Flux (2005), starring a post-Oscar Charlize Theron, followed by the highly anticipated horror film, Jennifer's Body, written by Diablo Cody (unfortunately less revisionist than one would have hoped for), the director unfortunately been unable to showcase her talents with these critically lambasted mainstream titles.
The Invitation, re-teams with her Aeon Flux (2005) writers Phil Hay and Matt Manfredi (recently responsible for the Kevin Hart/Ice Cube film Ride Along) for a much more enjoyable passion project. Featuring a cast of bright young Los Angeles actors we've seen filtered through a number of American indie films, Kusama builds intense atmosphere atop familiar foreboding for this single location chamber piece which plays like the horror version of The Big Chill.
Will (Logan Marshall-Green) has been invited to an engagement party at his old home, where ex-wife Eden (Tammy Blanchard) now lives with her new fiancé David (Michiel Huisman). The emotionally troubled Will seems to harbor heavy baggage concerning his ex-wife, at least judging from his drive into the isolated Hollywood Hills with new girlfriend in tow, Kira (Emayatzy Corinealdi). It seems none of the folks who made up a once tight-knit group of friends has set eyes on Eden for the past two years, and so there's an aura of forced jubilee amongst the clan of old friends, some quite anxious about Will and Eden being in the same room following the tragedy that touched all their lives. But reveries are interrupted by the presence of some new strange guests David and Eden invited to the party. And soon, things begin to get stranger, and more uncomfortable.
In many ways, The Invitation would seem to borrow heavily from a trove of familiar cult scenarios, cinematically (Split Image, Kill List, etc.) as well as any number of documented instances of this behavior (including the indoctrination of religious beliefs amongst groups of people, from the unnerving invention of Scientology to more ancient methods of brainwashing). But this is hardly an instant replay of a specific moment, like Ti West's 2013 film The Sacrament, which clearly conveys the basic mechanics of the Jonestown massacre. Instead, The Invitation is all about building a sense of paranoia and suspicion while its characters dance the familiar line of propriety as they engage in socially acceptable behavior even when faced with uneasy indications of alarm.
Kusama professes to have modeled the tone and feel of the film after Philip Kaufman's Invasion of the Body Snatchers (1978), and she succeeds in creating that same sense of menace. But it's also a film about the dangerous paralytic force of nostalgia. The only clearheaded character is the one presented as the most emotionally unstable, the aptly named Will, still in mourning over the death of his son, broadsided by visiting his prior home, a veritable tomb of doomed memories.
Kusama builds her first narrative around a male protagonist, and Logan Marshall-Green (you may remember him as one of the faultier points of Ridley Scott's Prometheus, 2012) is quite compelling as the bedraggled Will, at times reminiscent of Tom Hardy's mournful presence. Several others are pigeonholed as types, like the gay couple portrayed by Mike Doyle and Jordi Vilasuso. Others steal scenes, like the two party attendees David and Eden met in Mexico. Strangely (and comically), they're both white. John Carroll Lynch (McDormand's husband in Fargo, 1996) is unsettling, and Hannah Fidell's muse Lindsey Burdge (A Teacher; 6 Years), is an automatic red flag that something's wrong in this household, projecting herself into the group like a scared tornado, smiling widely through grimy make-up like a feral wild-cat stuffed in a young girl's housedress.
Dutch actor Michiel Huisman exudes a handsome, off kilter smarm as Eden's new beau, while Tammy Blanchard is one of those perpetually smiling balls of barely contained anxiety, dressed like a flowy garbed maidenhead on a ship and acting like one of Dianne Wiest's hysterical characters just prior to an emotional meltdown. But another bright spot is Emayatzy Corinealdi, star of Ava DuVernay's excellent sophomore film, Middle of Nowhere. She arrives as an outsider, a cool, collected woman who could be either a therapist or a trophy wife, but remains Kusama's best kept secret until the inevitable yet greatly staged third act.
DoP Bobby Shore (who also did some excellent work on this year's Closet Monster from Stephen Dunn) does wonders keeping us captivated in cramped, shadowy quarters, where we're stuck with characters running off into side rooms to cope with discomfort or focusing on a packed frame of multiple characters swilling wine and exchanging jibes. Those looking for any kind of definitive twists or surprises may be disappointed by The Invitation since you'll most likely guess what these strange folks are more or less up to from the get go.
There have been several shadowy scenarios outlined in Los Angeles based indie films, and initially, The Invitation and its gathering of old friends amid encroaching weirdness is also slightly reminiscent to James Ward Byrkit's 2013 film, Coherence, a very different beast entirely. Despite several but limited instances of wooden acting during minor, superfluous exchanges, the film accomplishes what it sets out to do, which is to instill a sense of dread and keep it simmering.
Reviewed on October 5 at the 2015 Beyond Film Festival – LA Spotlight Screening. 100 Mins.
★★★½/☆☆☆☆☆