Enemies – A Love Story: Hamm Imagines Peace Treaty as Male Bonding Episode in Flaccid Bromance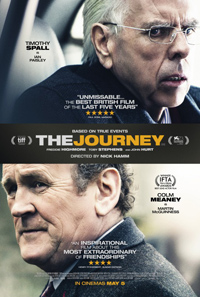 The reimagining of famed deliberations and clandestine alliances which help shaped the world and its political posturing as we know it today has long been a contentious tradition of the cinema. Ireland's Nick Hamm returns with his first feature in five years, the unexcitingly titled The Journey, which attempts to reconstruct a private conversation in 2006 between Democratic Unionist Party leader Ian Paisley and Sinn Fein politician Martin McGuiness of the Northern Ireland peace process which ended decades of violent turmoil commonly referred to as The Troubles.
Those uninformed on the deep historical divide are unlikely to get a sense of the importance of this meeting and the relief which their alliance finally allowed, even as stridently performed by two staunchly talented character actors like Timothy Spall and Colm Meaney. While Hamm certainly assembles a notable (and unnecessary) supporting cast in what feels like a televised version of a stage play, the jaunty, estranged tone doesn't carry the level of importance as it should, instead playing like some banal, tangential escapade which was excised from the biting satire of something like In the Loop (2009).
In May of 2007, former rivals Ian Paisley (Timothy Spall), the conservative Unionist leader and former IRA leader turned politician Martin McGuiness (Colm Meaney) became First Minister and Deputy First Minister of Ireland. Several months prior, a purported and unprecedented meeting took place between the two leaders when each of their party's attempted to end decades of bloodshed, here imagined as a forced and prolonged conversation after Paisley demanded to leave a weekend peace talk conference at Stormant being attended by all the major players involved in the discussion of the devolution of power to Northern Ireland. As British Prime Minister Tony Blair (Toby Stephens) and MI5 boss Harry Patterson (John Hurt) deduce the only way to gain a stronghold of peace in the region is if these two men unite forces, some light handholding allows McGuiness to discreetly join Paisley's motorcade.
The Journey is unlikely to win any praise for Nick Hamm, whose most prolific title remains the silly 2004 cloning thriller Godsend, which starred Greg Kinnear and featured Robert De Niro. Although it's a pleasure to see the recently deceased John Hurt in one of his last projects to receive a theatrical release (a handful of items in post-production should continue to unspool through the year), Hamm uses him as an awkward source of exposition as a chatty MI5 emcee, laying a hoary bed of pipe into the ears of Freddie Highmore's covert agent driver (who rather unbelievably placates the two old codgers with fluffy distractions about Samuel L. Jackson) to explain the import of these men and their legacies.
If Hamm received choice selections for the casting of these two old battleaxes (who don't really engage in the kind of bitchy repartee the tone suggests), the rest of these peripheral characters could have played by anyone. For some reason, there are a generous helping of notables in walk-ons, including Catherine McCormack (Braveheart; Dangerous Beauty), who appears as the only slight feminine accent in a blink-and-miss moment as a fictional sideplayer.
Colin Bateman's script struggles valiantly to overcome its staginess by doing whatever he can to remove the three characters from the confines of their vehicle, which includes a strained trip to a graveyard for some cardboard profundity, and a rather ridiculous feigned car accident involving a deer (which unfortunately recalls a more persuasive element in Stephen Frears' The Queen, which was released during the timeframe of these events).
Meaney's McGuiness comes across as the voice of reason here, with Spall's Paisley sputtering through a snarl of protruding teeth, often reciting Biblical passages and chastising those who respond in kind. "Don't quote scripture at me!" he screams at a gas station attendant with poor customer service skills. Like something between a watered down, barely politicized The Odd Couple phantom and Jonathan Treplitzky's extremely snoozy and opaque Churchill, which similarly fails to capture the weight of the specific moment on the shoulders of an iconic leader, The Journey never sheds the weight of its imagined contrivances.
★★/☆☆☆☆☆