Shades of Mr. Gray: The Vicious Bros.' Unsatisfying Close Encounter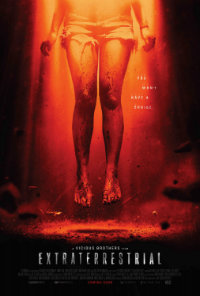 Following the unanticipated success of their 2011 film debut, Grave Encounters (which feels very much like the derivative, found footage version of a variety of other abandoned mental hospital narratives, including Brad Anderson's Session 9, but hey, someone managed to squeeze out Grave Encounters 2 for good measure), the Vicious Bros. are back with a sophomore effort, Extraterrestrial. Can you guess what it's about? Reportedly based on a tale they drafted back in their college days, the film bears the earmarks of pedantic indistinctness, a generic thrust of recycled, disambiguated alien abduction narratives that's not only hopelessly shallow but utterly routine.
April (Brittany Allen) and longtime beau Kyle (Freddie Stroma) are heading off to a weekend getaway at her parents' cabin, about to be sold as part of what sounds like a tense divorce settlement. A trip already strained by gasps of familial discord, April is upset to learn at the last possible moment that Kyle has invited three obnoxious peers to join them, including the exaggerated adolescent minded Seth (Jesse Moss) and two infinitely less distinct good time gals Melanie (Melanie Papalia) and Lex (Anja Savcic). It's Kyle's secret plan to propose to April over the weekend, but he's thwarted when he learns that April has no desire to marry her high school boyfriend and end up like her parents, citing an exciting job offer in New York as an excuse not to take the plunge. Amidst this awkwardness, a UFO hovers overhead, and very thin grey men with big black eyes begin accosting the quintet.
There is a way to churn generic drivel into passable entertainment, such as Scott Stewart's Dark Skies (2013), but the Vicious Bros. don't seem at all interested in any kind of innovation. We get a healthy dollop of interior spaceships and those tall and bony gray aliens we're accustomed to, but everything is so conventionally related that Extraterrestrial plays like a Syfy channel movie of the week. A compulsory set of irritating young types terrorized by unseen forces while they take a last stand in a remote cabin in the woods while simultaneously dealing with their own personal dilemmas is the farthest the Vicious Bros. can reach with this stale tale gasping desperately to be enlivened with some kind of energy.
Known cast members Gil Bellows and Michael Ironside get relegated to brief supporting stints, while we wait for the underwhelming younger cast members to be dispatched in routine fashion, including Melanie Papalia, star of indie horror film The Den, and Harry Potter alum Freddie Stroma. Jesse Moss gets the thankless task of playing the troupe's easy to hate douchebag member, part of an endless cinematic tradition where we never are led to believe why levelheaded individuals of a certain age would continue to approvingly intermingle with such shallow, disruptive people of this ilk.
And to top off all these familiar beats that deliriously elude anything chilling, thrilling, or even funny, Extraterrestrial manages to crash land into romantic melodrama. Soap opera star Brittany Allen does her best to convey some sort of believability, but a dramatic finale involving the aliens' recognition and apparent approval of human love as a concluding deal breaker really feels gruesomely ludicrous.
★½/☆☆☆☆☆