Reviews
The Sense of an Ending | Review
Man of Letters: Batra Crafts Low-Key Adaptation with Handsome Ensemble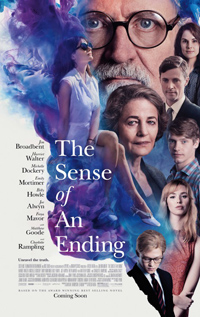 "The wine of youth does not always clear with advancing years; sometimes it grows turbid," observed the famed Carl Jung, a predicament which ails the main character of The Sense of an Ending, adapted by Ritesh Batra from the celebrated 2011 novel by Julian Barnes. First time scribe Nick Payne does a laudable job paring down the density of the Booker Prize winning novel to create an elliptical character study illustrating the detrimental effects of self-centeredness and narcissism on the life of a stunted curmudgeon still chained to misdeeds from the formative years of his youth. Batra, following up on his celebrated Academy Award nominated 2013 debut The Lunchbox, tackles more complicated emotional interiority here with a group of characters jostled out of their comfort zones by their adherence to tradition and the nostalgic power of objects. Outfitted with a stellar supporting cast, this old-fashioned but compelling melodrama is a well-heeled character driven ensemble.
When he's notified of inheriting an item left to him by the dead mother of his first love interest, the reclusive existence of Tony Webster (Jim Broadbent) becomes immediately unsettled when forced to face unresolved issues from his past. Memories of the young and beautiful Veronica (Freya Mavor) impede upon the present, much to the chagrin of his workaholic ex-wife (Harriet Walter) and his pregnant but single daughter (Michelle Dockery). As Tony attempts to track down the item, the diary of his dead schoolmate Adrian (Joe Alwyn), and why Veronica's mother had it amongst her possessions, he's thwarted by Veronica (now Charlotte Rampling) herself, which further stirs his emotional associations with the past.
At the core of The Sense of an Ending are the dueling personas of Tony Webster, played with winning alacrity as a youth by Billy Howle, and later by Jim Broadbent, wavering between shades of pathetic frustration and chilling camp. Most of Broadbent's scenes are stolen by his female co-stars, particularly a sympathetic Harriet Walter, and later, a brittle (and so, pitch-perfect) Charlotte Rampling as his aged object of desire.
Clearly, Tony Webster is a man stuck in the past, from his vintage camera shop to his archaic advice to his daughter to write a letter to her landlord to address an issue. He's a man stuck in a period when a letter he wrote had potentially damaging effects on his best friend and a mysterious woman who titillated him more as an enigma than a human. If the film's McGuffin, a strange diary left to Tony from Veronica's mother Sarah (an interesting utilization of Emily Mortimer), seems to elicit a bizarre and obsessive response from Tony, we slowly realize what it is he desires to uncover in the private words of his dead mate.
The modern world encroaching upon Tony couldn't be more progressive in its juxtaposition of what it means to be contemporary. His indefatigable ex-wife still clearly loves him but left him behind to seek happiness without him, his lesbian daughter who has chosen artificial insemination as a path to motherhood, and an ex-love interest whose associations are not who Tony initially assumes. In essence, his position at the center of these intersections forces our alignment with Tony, a man who doesn't know any one of these women at all, it would seem. And thus, his stunted inversion also makes him less of an interesting character, while the efficiently streamlined perambulations between past and present overcompensate for the absence of a fascinating intermediate.
Old-fashioned in the sense of its rich tapestry of characterizations, The Sense of an Ending may not be as devastating, poignant, or even altogether observant about the consequences of one's actions compounded significantly by the ravages of time. And yet there's a tangible appeal to this melancholic legacy about a man who cheated himself out of his own potential by projecting an inflated influence on the tragedies and trajectories of those around him.
★★★/☆☆☆☆☆