The Shape of Water | Review
Creature from the Red Lagoon: Del Toro Gets Sentimental in Cold War Monster Drama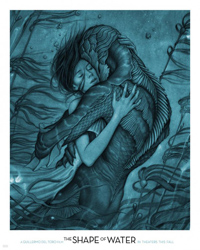 Monsters return as metaphors in Guillermo Del Toro's latest, The Shape of Water, a Cold War era melodrama which scored the director the Golden Lion at the 2017 Film Festival and has earned comparisons to his widely regarded 2006 masterpiece, Pan's Labyrinth. For as enjoyable as his nostalgia soaked latest bit of pastiche sometimes is, however, a prominent streak of sentimentalism paired with a familiar formula tends to detract from some otherwise daring flourishes, including an unprecedented eroticism largely absent from Del Toro's previous films.
If his latest can be considered something of a comeback thanks to the creative control allotted the auteur, in many ways Del Toro is up to the same old tricks by revising genre palettes in potent historical contexts meant to showcase the human predilection for holding onto the past and how it informs our present state of mind.
Two women working on the cleaning staff of a high-tech US government laboratory find themselves exposed to a top-secret operation when an aquatic creature from South America known as The Asset (Doug Jones) is brought for experimentation by the impassive federal agent Strickland (Michael Shannon). Eliza (Sally Hawkins), a mute woman who lives with an equally lonely roommate, Giles (Richard Jenkins), a recovering alcoholic, immediately bonds with the creature. As she fritters away her free time to spend with The Asset, her co-worker Zelda (Octavia Spencer) grows concerned. As Strickland finds himself unable to glean meaningful information from his discovery, he orders it to be vivisected, which leads to conflict with Dr. Hoffstetler (Michael Stuhlbarg), a man with complex secrets of his own.
Del Toro's latest fantastical confection (once again employing the use of Doug Jones, who has enhanced the Hellboy films, as well as the iconic Pale Man in Pan's Labyrinth) happens to be one of his least sensational, appearing to be the technologically evolved version of The Creature from the Black Lagoon—his trajectory in the lives of the humans a sort of dime store romance version of Spielberg's E.T. But Del Toro embraces rather than subverts the film's obvious eye for and inspiration from nostalgia.
Richard Jenkins stars as moth-eaten, closeted homosexual, his fixation on the Aryan looking hunk at the local diner suggesting the dark days of a love with no name, when men like Harry Hay were creating the first secret gay rights organizations, like the Mattachine Society (which was disbanded a year before Del Toro's film is set). Just as his failing artist mourns the glory days of a Hollywood before McCarthyism scared away its daredevils (Betty Grable and Alice Faye, who abandoned acting and stardom, make prominent reference), so does Del Toro honor the glitzy tradition of studio musicals and Biblical epics.
At the heart of The Shape of Water is Sally Hawkins as a mysterious mute (given the surname Esposito, which means orphan, it's one of the film's many details obvious and explicit in Del Toro and Vanessa Tyler's screenplay), and she gives a warm, entirely empathetic performance which could have been more easily appreciated if Del Toro dialed down some of the sentimental asides (an unbelievably moist yet mold-less bathroom in a dank, crumbling building houses an unbelievable underwater skinny dip).
The Shape of Water might have benefitted from a bit more substantial characterization for its quintet of main players, all performed precisely by its noted supporting cast. Besides a bit more back story from the melancholic Jenkins, the always memorable Octavia Spencer is Hawkins' sympathetic co-worker, Michael Stuhlbarg a Russian mole, and a chilly, grim Michael Spencer as the heartless military villain. And yet, despite all these substantial elements, The Shape of Water is missing those tragic elements which elevated the tragic, atrocious realities of Franco's Spain in Pan's Labyrinth.
The stakes are never quite high enough to justify the rushed sense of regard we're meant to hang on the curiously sanitized central romance (we see Hawkins masturbating in the tub, but Del Toro stops short, always implying rather than showing, which further queers the relationship between Eliza and the Asset—not because he's a creature, but because it's a love and a physical union unable to be comprehended in the wake of good taste reserved for the heteronormative). Still, at least one sequence shows the blatant homophobia and racism which controlled the social mores of a period too often ignorantly romanticized.
As to be expected, The Shape of Water features the usual command of expert special effects in any Del Toro film, here a wet world full of brown, green, earth tones for its secretive characters lurking on the outskirts of the majority (in comparison, Shannon's villain lives in a brightly lit home of omnipresent yellows).
Alexandre Desplat's score uses repeated sequences which bleed unobtrusively into the film's climax, but its playful strums during early sequences with Hawkins and Spencer as they go about their daily work duties tends to enhance a hokey quality about the film. Interestingly primed but never fully satisfying, The Shape of Water will enchant those inclined towards the film's romantic investments in one of Del Toro's most willfully rosy-tinted films concerning mankind.
Reviewed on September 13th at the 2017 Toronto International Film Festival – Special Presentations Programme. 127 Mins
★★★/☆☆☆☆☆