Miyazaki's Swan Song A Somber Flight Of Fancy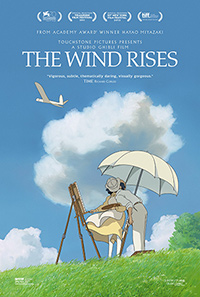 Earlier this month, legendary animator Hayao Miyazaki, writer and director of such masterpieces as Spirited Away, Castle in the Sky and My Neighbor Totoro, announced his final retirement (this isn't his first).  How fitting that his final feature takes up his favorite thematic motif, that of magical phenomenon and fantastic human achievement – flight.  Oddly, for the first time in his lengthy career, Miyazaki has embraced the more realistic storytelling of his partner Isao Takahata, yet he hasn't abandoned the lyrically imaginative storytelling he's known for.  With Studio Ghibli's signature hand drawn and heartfelt feel, The Wind Rises fictionalizes the life of Jiro Horikoshi, the chief engineer behind the famed Japanese Zero fighter jet, and blends his tail with that of Tatsuo Hori, author of the novel from which the film's epithet originates.
Set on a grand stage that overtakes the epic scope of Princess Mononoke, Jiro's story unfolds over the course of decades in uncharacteristically grandiose fashion, from childhood dreams of meeting an Italian aviation engineer to reckoning with the dawn of World War II and his indirect involvement in it. With such a substantial time span to cover and such vast topics to touch on, Miyazaki finds himself with plenty to work with. However, time itself is not explicitly indicated, its chronological progression is only noted by historical circumstance, such as the Great Kantō earthquake of 1923, employed within as a means to show Jiro's heart of gold while introducing his life long love interest, or the rise of the Nazi regime being mentioned in parallel with the technological advancements of German aircraft.  Structurally, this is Hayao's most complex work to date, and though he's dealing with familiar themes – the deconstruction of family in the face of adversity, flight as a means of physical and intellectual freedom, overcoming fear in the name of love, personally bearing guilt as atonement for national wickedness – these themes are explored in a somberly mature fashion, free of the literal magic that lines his oeuvre.
One might expect that Miyazaki sans mystical spirits and transformed beings might lack his ever present whimsy, but thanks to fluidly placed dream sequences that take full advantage of the fantastic rules of the unconscious, magic seems to live on. Through Jiro's dreams we soar across time and space, exploring the possibilities of Italian aeronautics, finding inspiration in the unconscious, but never forgetting the inventiveness of the natural world. Above all else, it is this underlying advocation to think for one's self, dreaming of a better world for all that seems to be Hayao's final summation. The Wind Rises is, by locution, a metaphor for keeping up with the times and rising to the occasion of whatever today might bring, and in looking backward to times seemingly long gone in a form of animation deemed all but dead in the age of computer generated images, Hayao Miyazaki has once again found solace in humanity, his final feature a luminous capstone of the inherent empathy that radiates from each and every of his beloved films. Long live the master.
Reviewed on September 14th at the 2013 Toronto International Film Festival – Special Presentation Programme.
126 Mins