Days Go By: McG Can't Find the Beat in Mottled Espionage Drama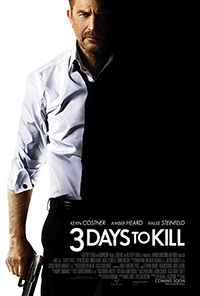 Now with a handful of brightly lit baubles of films to his name since beginning as a music video director, McG can add another title to a mounting filmography that has yet to sport something of a healthy shelf life with 3 Days to Kill. Co-written and produced by Luc Besson, this could technically be considered McG's foray outside of Hollywood, but many expecting to see something along the lines of Taken—and if that's what you seek, there may be something for you—then rejoice, as here Liam Neeson is replaced by grizzled Kevin Costner and ham jammed into Paris to reunite with the expat wife and kid he left there due to his career with the CIA. But McG's film actually plays like a glossier, family friendly version of last year's Erased, which headlined Aaron Eckhart and Liana Liberato as spy dad and teen daughter.
A formidable international spy, Ethan Renner (Costner), has just been diagnosed with terminal brain cancer that has spread to his lungs. A CIA doc gives him three, no, five months, tops, to get his life in order. And so, Ethan is eager to mend his strained relationship with distant wife Christine (Connie Nielsen) and daughter Zoey (Hailee Stenfeld), so returns to his Parisian apartment (where he finds a family of African immigrants squatting there—thankfully, they're able to work out a temporary agreement so they can show Ethan the tightknit family dynamic he's missed out on). But on his last job in Serbia, Ethan saw the face of a criminal mastermind which makes him lucrative property to Vivi Delay (Amber Heard), a ruthless operative whose immediate supervisor is the director of the CIA. Vivi offers Ethan a cutting edge, experimental medication that could prolong his life in exchange for agreeing to one last big job by locating the man known as the Wolf.
Immediately jumping from Langley, Virginia to Serbia, 3 Days to Kill races to prove to us it's a breathtaking juggernaut of complicated depth, but some nifty action sequences and serviceable editing can only mask the indecisive aura of a confused narrative for so long. A wearied but watchable Kevin Costner is generally likeable, though he seems trapped inside a stodgy vehicle that has him facing the tired cliché of spy-cum-family man transitions or maneuvering around a heartless harpy like (the extremely miscast) Amber Heard's Vivi Delay, a woman who seems to have received her training in the same den of iniquity that birthed Nomi Malone. But at least the high camp value of Heard, who's always clothed in some distracting leather ordeal in homage to Tim Burton's Cat Woman, will put a smile on your face and a chuckle in your gullet, which is more than can be said for Hailee Stanfield, the young lady of True Grit remake fame. It's not so much that Stanfield isn't up to par as far as playing a vaguely insolent and bitter adolescent with rankling daddy issues goes, but that she severely overplays her role, constantly chewing through stilted scenes with a prowess, or overt confidence, that belies her performance as nothing more than a simple ruse.
Scenes meant to convey father and daughter bonding as Ethan teaches Zoey to ride a bicycle and then dance (in preparation for Prom), feel like orchestrated bits of cornball meant to distract us until we can get another action scene, all of which inevitably seem to close with Costner's cancer acting up suddenly, the new cancer cure he's been injected with by Heard causing hallucinations when his heart rate gets too high (at least we were spared a sex scene for laughs, though an obnoxious ring tone sure gets overplayed). The title is in reference to the number of days Costner's Ethan has to supervise his daughter alone while Nielsen (looking beautiful but with nothing of interest to do besides hem and haw) while he concurrently hunts a criminal mastermind. Inevitably, it lends itself to joke with the amount of time we have to kill till we get to the final credits.
★ / ☆☆☆☆☆