A Screen of Their Own: Scherfig Concocts Winning WWII Romantic Comedy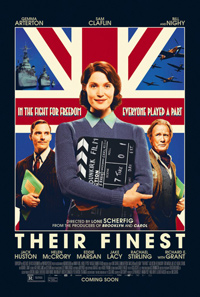 Danish director Lone Scherfig, best known for her Dogme 95 breakout Italian for Beginners (2000) and Oscar nominated An Education (2009) unveils her most emotionally well-rounded film to date with the tragedy tinged romantic period comedy Their Finest. Based on the novel Their Finest Hour and a Half by Lissa Evans, television scribe Gaby Chiappe does a fine job adapting for her first feature in what stands as an intelligently conveyed crowd pleaser which seamlessly combines the clichés of the romantic melodrama with the potent historical period in which it takes place. For audiences appreciating cinematic narcissism, this movie about the glorious moviemaking process is far less cocksure and self-aggrandizing than its American counterparts, and evokes a vibrant sense of proto-feminist agency in the early days of a period where men staunchly determined the outcome of national storytelling traditions. Funny and sweet yet irrevocably laced with the grim determination of the importance of hope via escapism even during the darkest hour, Scherfig's celebratory film may be well-dressed romantic hokum, but manages to run the emotional gamut and remain delightful nonetheless.
In London, 1940, as the city reels in terror from the expectation of death by bombing on a day-to-day basis, theater attendance is at an all-time high. In effort to ensure enhanced interest, the Film Division wishes to expand their propaganda platform and appeal to their female audience (who make up a large number of theatrical attendees). Believing she has been hired for a secretarial position at the Film Division, Welsh implant Catrin Cole (Gemma Arterton) learns she has been headhunted for her copyrighting skills, and is offered a position as an uncredited screenwriter to supply "the slop" (i.e., women's dialogue) alongside higher paid male colleagues Raymond Parfitt (Paul Ritter) and Tom Buckley (Sam Claflin). When the studio becomes aware of a news story involving twin sisters (Lily and Francesca Knight) who took their drunken father's boat to rescue wounded soldiers at Dunkirk, Catrin is sent to investigate. Although she finds what was published about the sisters isn't quite true, she spins it to her advantage at the studio and is directed to co-write the script. Much to the chagrin of her artist husband (Jack Huston), Catrin begins to find not only her voice, but a vibrant passion for the work, as well as a growing attraction to her colleague, Tom Buckley.
As far as these productions go concerning a film within a film, Their Finest utilizes a similar formula to many other endeavors. As regards the spirit of compromise, here bundled into the successful initiation of propaganda, Jake Lacy (Obvious Child; Miss Sloane) scores laughs as the Norwegian born American Air Force hero sandwiched into the production at the last minute in order to appeal to US distributors (Jeremy Irons makes a brief but hilarious cameo as a Henry V spouting Secretary of War, while Richard E. Grant is a crusty touch as the head of the Film Division). This recalls shades of Bullets Over Broadway (1994), but perhaps more properly evokes the passionate spirit of Frank Oz's Bowfinger (1999) in the effort of valiant dreamers scrabbling to create meaningful material despite great odds. However, everyone in this esteemed ensemble bows down to the inimitable Bill Nighy as a self-consumed actor unable to admit he's gone to seed. Balking at the audacity of the studio to offer him the role of the clownish drunken uncle rather than the male lead, he's quickly persuaded by his new agent, a winning supporting turn from Helen McCrory, switch-hitting for her recently deceased brother (an interesting turn for both her and Eddie Marsan as Polish émigrés).
The tone is mostly jolly-ho, with Nighy stealing every single minute of screen time while the usual romantic tics transpire between leads Arterton and Claflin (who is in winning form, especially compared to his stint as one of the rapacious elitists in Scherfig's The Riot Club), until the narrative tackles a number of tragedies in its final stretch.
Arterton, who has headlined titles from several renowned auteurs (including Anne Fontaine, Arnaud des Pallieres, and Stephen Frears) scores one of her most triumphantly absorbing turns to date as the quietly determined protagonist dead set on retaining the bravery of her female subjects, upon which the propaganda film was crafted in the first place. She realistically instills a sense of first wave womens' lib during a period which knew no such concept regarding gender equality (American films often exaggerate the possibilities of women during pre-feminist periods—such as Tanya Wexler's 2011 film Hysteria), something heavily underscored by Scherfig, a touching supporting turn from Rachael Stirling, screenwriter Chiappe, editor Lucia Zucchetti, and a fitting, if sometimes schmaltzy inclined score by Rachel Portman.
Without a doubt, this ranks as one of Scherfig's best films to date, and even if it won't generate the same critical acclaim as the 2009 drama An Education, this is a far cry from 2011's Anne Hathaway headlined One Day and the portrait of entitled, endlessly repulsive chauvinists in 2014's The Riots Club.
As we gaze upon Catrin as she solemnly watches the finalized film in the theater, Their Finest breaches a sort of anguish rare for the kind of light hearted fare we tend to dismiss as mere escapism. And though Scherfig's film is about the successful construction of inflated propaganda used to inspire joy and arouse hope in its audiences, it's also a mightily successful portrait of the invisible labor and forgotten heartbreak which are the ingredients sprinkled into every creative achievement, whatever the initial or inevitable intention.
★★★½/☆☆☆☆☆