To Gain the World: Fluk's Allegorical Fairy Tale Treads Perfunctory Territory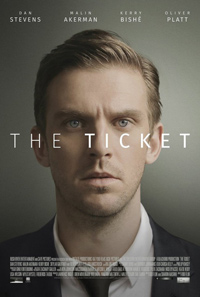 Pope Francis described materialism as 'spiritual cancer' in that the idolatry of earthly possessions can only corrode whatever internal moral code we collectively agree to call the soul. In ye old good book, perhaps the most recognizable and resilient remnant of folklore in our culture, the famous passage "For what will it profit a man if he gains the whole world and forfeits his soul? (English Standard Version, Matthew 16.26)" comes to mind. The statement is clearly reflected in Ido Fluk's allegorical sophomore feature The Ticket, which filmed several years prior and premiered at the 2016 Tribeca Film Festival, and deals with a blind man whose sight is miraculously restored only to find his value, virtue and conscious henceforth diminished. Opening at a particularly lucrative moment, right in the middle of a renaissance moment for headliner Dan Stevens, currently enjoying a wave of critical acclaim for television hit "Legion," as well as starring in Disney's latest adaptation of The Beauty and the Beast and a supporting turn in Joseph Cedar's English language debut Norman, set to hit US theatrical release the following week. Stevens is in top form here, and if there's any reason to tune in, it's for his magnetic lead performance as a mild mannered man who succumbs to the temptations of worldliness. Whether it's worth your time and the price of a ticket is debatable, since it feels like Fluk and co-writer Sharon Mashihi squandered an opportunity to make their moral fable as dark and as hard-hitting as it could have been.
James (Stevens) is a milquetoast phone operator at a real estate firm whose life is turned upside down when his sight is suddenly restored. A doctor confirms a pituitary tumor which had been pressing against his optic nerve had shrunk. At first, this unprecedented miracle seems a blessing to James and his wife Sam (Malin Ackerman), but his co-worker and best friend Bob (Oliver Platt) notices a change in his demeanor almost immediately. Soon, James is rising in the ranks at work, coming up with ideas on how to make the company more money, even if it isn't beneficial for their clients. Soon, his sight begins to seem like a curse, causing friction with Sam, which quickly leads to adultery and divorce.
Apparently inspired by the 2008 economic crisis, metaphors about sight, and as James says in his sales pitch, the idea of "living beyond one's means," is at the transparent heart of The Ticket, a reference to another passage in the same repeated monologue about God not letting a poor, unfortunate soul into heaven because he never played the lottery. After all, you can't win if you don't play. James, understandably, wishes to partake in all the human pleasures he had been denied as a blind person. Predictably, his marriage to Sam, (an effective Malin Ackerman), falls apart at the seams.
The dynamics of their relationship, however, are only teased, and one feels there's something a bit more insidious Fluk could have mined here (perhaps at the expense of the audience's sympathy for Sam). Hiding their son's difficulties at school (which results in Stevens engaged in another aggressive face-off with a school principle, although this time less insidiously than in his 2014 breakout The Guest) and clearly having the upper hand in the relationship, leads to some obvious control issues. "If you leave, you can't come back," she confirms, not understanding how sight regained might inspire someone to have, well, wandering eyes, among other things. When The Ticket starts to skirt into creepy territory, such as in the developing romance between Sam and James' blind colleague (a usually off-putting Platt), Fluk makes this more about a sparring between suitors than explore the bizarre complicity of Sam.
Since it lacks the kind of genre flair which would have made this feel like a fresh take on the familiar story, The Ticket tends to feel like the sober version of the sappy 1999 Irwin Winkler romantic melodrama At First Sight, in which Val Kilmer stars as a man whose sight is restored, but finds his life without seeing was more manageable, even at the expense of love interest Mira Sorvino. Stevens becomes superficially obsessed with material things, including his looks, but doesn't make too many extravagant strides. Sure, he comes up with a real estate plan which earns his company money by taking advantage of the financially vulnerable, engages in an illicit affair with a co-worker (Kerry Bishe), and immediately takes his restored sense for granted—but he's a cut rate asshole, not a monster (one wishes for a more extravagant metamorphoses, like the one transforming Bradley Cooper in the similarly problematic Limitless, 2011).
The end result then feels like a "Twilight Zone" episode stretched a bit thin. Starting and ending on quiet whispers between two people, who end up in remarkably different places emotionally between these exchanges, The Ticket is at best, an eerie mood piece which doesn't live up to the sinister levels suggested by Stevens' narrowed, animalistic gaze. A constant and quietly foreboding score from Danny Bensi, paired with Zack Galler's vibrant cinematography also elevates the film's suggestive impact. Sequences where Stevens meets Bishe during their nightly rendezvous are steeped in deep amber light speckled by rigid shadows, the pronounced effect producing a German Expressionism vibe, especially considering the film's undertones as a fable.
★★½/☆☆☆☆☆