Once Upon a Time, There Was Light in My Life: Fitzgerald Soars with Bittersweet Melodrama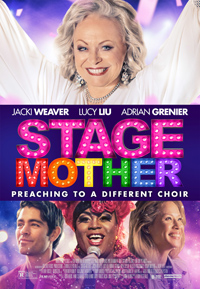 A testament for the continual importance of narratives which explore the fractured and compromised trajectories of LGBTQ+ themes and characters arrives in the form of Stage Mother, the latest film from director Thom Fitzgerald. On paper, it sounds like something you've seen before, especially if you're a consumer of indie queer cinema in the US—and to be fair, it's quite reminiscent of the kinds of characters and stories which flourished in the late 1990s and early 2000s, where films and television weren't always entirely focused on coming out stories and high school trauma but a wide range of phases and scenarios.
Too often, some of these queer classics were limited by micro budgets and/or distribution which relegated release to art-house theaters in a sprinkling of major metropolitan areas, so it's a welcome treat to see a revitalizing Jacki Weaver bring an extra cup of kindness as the warm, empathetic lead in a narrative which resists the limitations of its stereotypes with keenly heartfelt aplomb.
Maybelline (Weaver) has a comfortable life in Texas, married to husband Jeb (Hugh Thompson) and directing her local Baptist church choir. When she receives a call her son Ricky has died of a drug overdose in San Francisco, she's devastated despite not having spoken with her son for well over a decade after he not only came out as gay but also a drag queen. Against the urging of Jeb, Maybelline heads to San Francisco to attend her son's funeral. Put off by the non-traditional ceremony presided over by Ricky's drag mother Dusty Muffin (Jackie Beat), Maybelline tries to connect with her son's partner Nathan (Adrien Grenier), who;s bitter about the state of disarray Ricky's death has caused. Since they weren't married, something Ricky didn't want to do until his mother 'came around' to accepting him, Nathan must leave his apartment as well as the bar they ran together, Pandora's Box, since it now belongs Ricky's parents. Determined to do the right thing, Maybelline takes it upon herself to revamp the venue's main show with a live, original act to be performed by the staff. Taken in by Ricky's best friend Sienna (Lucy Liu), Maybelline's warmth soon begins to transform her son's colleagues, and before she knows it, the old life she was leading seems drab by comparison. But the past comes calling just when everything starts to look up.

Jacki Weaver has had a fascinating, unpredictable career trajectory. Technically once categorized as a character actress (she was a supporting player in the Peter Weir classic Picnic at Hanging Rock, 1975), her career surged after an Oscar nod a decade ago thanks to David Michod's Animal Kingdom (followed by another for The Silver Linings Playbook in 2012). Often villainous and almost always kooky, Weaver expertly flies between genres with ease, and whether you're watching her steal scenes in Poms (2019) or deliver weirdness in Bird Box (2018) or Stoker (2013), she's always a highlight. And with Stage Mother she effortlessly transforms from repressed Texas housewife to a scion of gracious maternity as a mama hungry for spiritual retribution following the overdose of her estranged son. Even if the beats of Brad Hennig's fun but familiar narrative are sometimes predictable, there's nary a false note or schmaltzy bit from Weaver, who clings to her San Francisco tribe like a brood of lost hatchlings.
While Adrien Grenier is interesting, one wishes he would have had a few more scenes to suss out Nathan's transformation from a bitter, grieving partner to his eventual acceptance and understanding of Maybelline, a woman with her own yoke to bear thanks to the choices she's made. Likewise, Lucy Liu (who also appeared in Fitzgerald's underrated 3 Needles, 2005), while refreshing to see as a bedraggled, sexually liberated single mother, is perhaps more catalyzing window dressing than anything.
The real pulse of Stage Mother comes from Weaver's interplay with Mya Taylor (of Sean Baker's beautiful Tangerine, 2015), Allister MacDonald and Oscar Moreno. And then there's drag queen icon Jackie Beat, effective in drag and out, as Dusty Muffin. What could have been a hamfisted movie romance with August, a hotel concierge played by Anthony Skordi, is instead a rather touching entanglement with Weaver. But the showstopper is a moving and beautifully staged tribute to Maybelline's dead son, a live performance of the Bonnie Tyler ballad "Total Eclipse of the Heart."
These are echoes of the pain and melancholy in Fitzgerald's 2003 film The Event, which left us with Olympia Dukakis leaving a voicemail on her deceased son's answering machine. Sweet and poignant without being overstated, it's a rare, uplifting take on forgiveness and empathy perhaps necessary now more than ever.
★★★/☆☆☆☆☆