The Bare Necessity | Review
I Think I Love You: Le Duc Looks for Love in Absurdist Comedy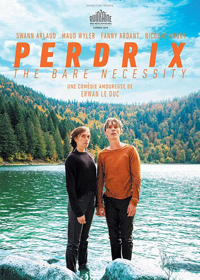 "Is the life you're living truly yours?" asks a whispery Fanny Ardant a matriarch and radio host of the program "Love is Real," our introduction to the eccentric Perdrix family in Erwan Le Duc's debut The Bare Necessity, which premiered at the 2019 Cannes Film Festival in Directors' Fortnight.
It's a logical enough starting point for an increasingly absurd and lightly comedic rumination on a circuitous journey to romantic fulfillment for its central characters. The film's original title Perdrix, thus named for the family's surname, is French for 'partridge.' While there aren't any pear trees to speak of, it would seem Le Duc's potential commentary could refer to the family's self-inflicted captivity, breaking out of passivity and complacency to discover unanticipated destinies. Filled with strangeness and idiosyncrasy, Le Duc makes fine use of a notable cast for his first outing as director.
Small town policeman Captain Pierre Perdrix (Swann Arlaud) lives with his mother, the widowed radio host Therese (Fanny Ardant), and his brother Julien (Nicolas Maury), a single father who returned to the family home with teen daughter Marion (Patience Munchenbach). They find their comfortable lives upended when Juliette Webb's (Maud Wyler) car is stolen by a member of revolutionary nudists who have begun to infiltrate the area. Somewhat of a rolling stone, all of Juliette's belongings are in the vehicle, including volumes of her diaries she has been writing since her youth, and which are, of course, priceless. As Pierre provides assistance to the somewhat prickly Juliette, he begins to have feelings for her, while her presence disrupts the Perdrix clan at large, all who have been living in a comfortable state of arrested development.

The offbeat nature of The Bare Necessity arguably bears a distinctive Gallic signature, but Le Duc's offering is reminiscent of the energies often formulated in items from the Larrieu Bros. with an absurdist bent which is more comfortable than, say, Quentin Dupieux (whose much more pronouncedly wackadoo Deerskin opened the same sidebar where Le Duc premiered).
For many, the main attraction might be the ever luminous Fanny Ardant, here a brokenhearted matriarch dressed in brown earth tones which would have been posh on Ingrid Bergman circa the 1970s. One wishes more energy had been devoted to her trajectory as a woman who's flung herself into a pattern of promiscuity in hopes to simultaneously liberate herself from her husband's memory yet also honor the connection they'd once had.
The real focus, of course, is Swann Arlaud, fresh off his turn in Ozon's By the Grace of God (2019) and formulating a lighter rural characterization than in his Cesar nominated breakout in Bloody Milk (2017). Amiable and easygoing, his Captain Pierre Perdrix seems to wander about in a haze until he's jolted to life through his interactions with the zany free spirit Juliette (Maud Wyler, recalling Isabelle Carre). Lost somewhere between these two fragments is Nicolas Maury as a grieving, single father Julien, who studies earthworms while anguishing over the growing rift with his teen daughter (Patience Munchenbach). Less flamboyant than many of his more outré performances, Julien's side plot often feels as if it could have been excised for a more intense focus on either the other characters or the pronounced strangeness of the film.
Revolutionary nudism, as the film's 'primal insurrectionists,' purport, is all about getting back to the basics by embracing vulnerability, a return to the self by sloughing off the weight of cultural norms. It's a twin motif fitting with Ardant's flailing radio program—are our lives really our own? Does falling in love enhance or detract from self-actualization?
Predictably, Juliette and Pierre unite as a potential couple through their very bizarre but strangely compelling courtship. As she's forced to leave behind the diaries which she has so painstakingly poured herself into, Pierre woos her with dreamy sweetness. "You're everything I dreamed of but couldn't imagine." And so perhaps it's this journey towards vulnerability, the stripping down of one's self-made barriers, which really brings one a The Bare Necessity which would include love.
★★★/☆☆☆☆☆