Trash Humping: Bates Deliver Unkempt Dysfunctional Family Thriller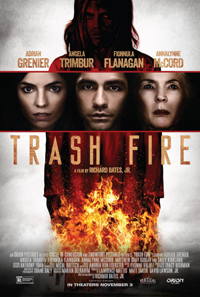 Director Richard Bates Jr. cuts a bit too deeply with third feature Trash Fire, a film which doesn't exactly warrant puns on the putrid sort of smell its title evokes, but mistakes abject cynicism for black comedy. In a world where Deadpool's maximum overdrive of bitchy repartees is considered wit, it's no surprise to see this material is his most mainstream to date and snagged a theatrical release when his first (and best) first feature Excision (2012) was bypassed for such a platform following a premiere at the Sundance Film Festival. Featuring a miserable covey of characters stomping around in a narrative so overstuffed with zany character tics to rightfully address all of them, it's a neurotic relationship dark comedy which converts into a psychotic familial drama modeled like the Halloween version of Home for the Holidays (1995). A heterosexual couple of three years enters their first round of Who's Afraid of Virginia Woolf? styled bickering until a surprise pregnancy forces them to reevaluate their standing, including a sudden family reunion which proves to pull a few too many rancid skeletons out of the closet. The subtleties of cruelty and manipulation are thrown out the door, and this nonsensical concoction robs its characters of verisimilitude, and further compromising audience investment by mashing them all into a contest of who's the most unlikeable of all until no one cares what's going on or why.
Although his personal issues have the effect of putting his therapist Florence (an amusing Sally Kirkland) to sleep, emotionally troubled Owen (Adrian Grenier) isn't exactly divulging everything. Currently indulging his cruel, sociopathic streak in his interactions with long-time girlfriend Isabel (Angela Trimbur), they find themselves on the brink of imploding. A disastrous anniversary dinner leads to one of Owen's epileptic fits and the eventual admission from Isabel of a pregnancy she desires to abort. In a last ditch attempt to save the relationship for the sake of the unborn child, Owen begs Isabel to stay—but her condition is she be allowed to meet the estranged family members Owen avoids speaking about. His mother and father died in a terrible fire during his youth, an incident which severely injured his younger sister (AnnaLynne McCord), forcing the siblings to live with an abusive, religious grandmother (Fionnula Flanagan). He harbors incredible guilt for running away and leaving his sister, so the return initially seems a positive move towards catharsis. But grandma and little sister hold their own resentments.
Bates' script seems to call for something much darker and quirkier than what was eventually achieved. The tone of Trash Fire is set at an unrelenting shrill pitch, something which could have worked had it been tempered with some reprieves. Instead, the script heaps various inconsistencies on Owen's characterization, an alcoholic/epileptic/bulimic whose estranged family and mysterious past supposedly account for his severe communication issues with Trimbur's Isabel, a woman who can at least match his repartee with bitter rejoinders of her own. But theirs is a losing battle, and an unplanned pregnancy (at least in more contemporary climes) hardly seems the reason to stabilize their sinking ship.
At the same time, Grenier and Trimbur are a bit too glossy, too polished (looks wise) to properly convey the gravity of two thirtysomethings intent on depleting each other's vitality. And then, enter talented character actress Fionnula Flanagan, an abusive grand matriarch who hardly bats an eye to see her long lost grandson return with a pregnant girlfriend in tow. Always a pleasure to see on screen, Flanagan is perfect casting as a crusty old fundamentalist Christian, but the real problem is how her dialogue is basically interchangeable with Grenier and Trimbur's similarly over-the-top chatter.
The caustic tension between this trio is diluted momentarily from the sweetly voiced AnnaLynne McCord (the lead in Excision), whose face is hidden due to the considerable scarring. Her character lends this a note of grindhouse glory, which it seems Bates was going for, the cruelty of its title (suggesting the off-screen fire which claimed their parents refers to a cruel epithet coined for poor white people), and one catches glimpses of items which may have inspired this (for some reason, early Tobe Hooper comes to mind, like Eaten Alive), but McCord isn't prominently featured, merely a figment of exploitation present as the catalyst for the finale.
At the same time, Trash Fire plays like the hysterical twin of Zach Clark's 2016 film Little Sister, where a young nun returns home to visit a broken family still dealing with a horrible fire which disfigured her brother.
★★/☆☆☆☆☆