How do ya Like them Cucumbers?: Manasseri Offers Kosher Silliness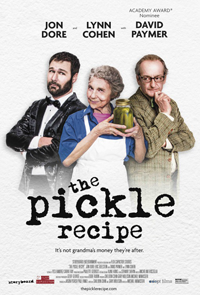 Potentially could be considered in the same food produce aisle subgenre as Veggie Tales, Michael Manasseri, primarily known for his lead role as Wyatt Donnelly in the series Weird Science, now adds The Pickle Recipe to his film grocery list. A formulaic yet warm-hearted comedy cocooned in multi-generational Jewish humor, despite the plentiful shortfalls and the genre clichés, this offers your run of the mill family-friendly fun entertainment.
Joey Miller (Jon Dore) is a bar/bat mitzvah and wedding party emcee who struggles simultaneously with remaining a steady father figure in his daughter Julie's life (Taylor Groothuis), as he is suffocating under the pressure of financial ruin. As an accident during a wedding reception destroys all his equipment, he is faced with a dilemma: do anything to secure new equipment for Julie's impending bat mitzvah, or submit to his smug ex-wife Fran (Ashley Noel) and her laconic, vain husband Harris (Brandon Matthew Layne) taking over the party. As the clock begins to wind down to the day of judgement, he is convinced by his unscrupulous Uncle Morty (David Paymer) to steal and sell a closely-guarded kosher dill pickle recipe from his grandmother Rose (Lynn Cohen) in order to attain the necessary funds.
From the get go, it is apparent that Manasseri and the first-time screenwriting team of Sheldon Cohn and Gary Wolfson are not attempting to disrupt convention. Relying on safe comedy tropes and story structure that commonly play out in early Jim Carrey films such as Liar, Liar (1997) and Bruce Almighty (2003), there never is a sense that the conflicts that arise will go unresolved or will permanently affect the relations within this character set. As a result of this ever-constant attitude, the majority of the characters are either underdeveloped or the segments that play out act as an exercise in tedious predictability. Various supporting characters such as Young Ho (Joe Yau) and the drug dealer Eddie (Matt Lockwood) are your stereotypical caricatures, though this could be utilized to easily explore the world and interactions of the cast, their associated comedy being solely based around hackneyed tropes end up tripping up much of their potential. On the flip-side, characters like Morty and Joey's best friend Ted (Eric Edelstein) play up their clichés to such a vibrant extent that there is scarcely an unenjoyable moment with them on-screen. The importance of the supporting cast have greater diminished value over poorly developed sub-plots, relying too heavily on situational humor and one-line zingers over continued characterization. This concludes in resolutions brought in a little too swiftly and cleanly to be believable.
The saving grace of the whole mishmosh of character arcs is that of Rose. Cohen plays her with a resounding hilarity and vulnerability that results in her being the most relatable and realistic character in the film. Particularly in a scene where Rose delivers pickles to her friends at a retirement home and interacts with Arnie (Ronald Cohen), one of her old cooks who suffers from Alzheimer's Disease, her performance has a reverberant sincerity that strikes right to the heart of anyone who has lost a friend or fears of being forgotten by their loved ones.
However, with all of these detractable elements constantly at play, Manasseri's direction and Michelino Bisceglia's score manage to steer the film in a way that the awkward interactions of these characters makes for a rather whimsical experience that is easily enjoyable. Bisceglia's music (original and appropriated) is a combination of folk, incidental, electronica and hip-hop that has a uniqueness that hasn't been as expertly explored in such a distinctive way since Mary Ramos' work on Django Unchained (2012).
Ultimately the film will delight many audiences, but impress far less. The stock narrative and overplayed characters have little to offer, yet provide a simple experience that is far more enjoyable than it would have been if crafted by different hands. It never overstays its welcome, though it struggles at times to convince audiences to stay. The Pickle Recipe is a comedy that can be comfortably appreciated, nonetheless it may inevitably be destined for obscurity.
★★★/☆☆☆☆☆