Another Tuskegee Experiment: Smith's Latest Creation Odd But Not Audacious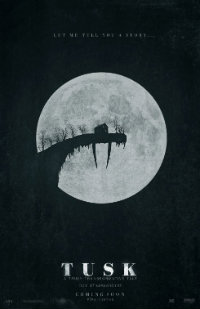 Sure to garner all the WTF exclamatory delights that it's had its grotesque little heart set on since the initial inspiration, Kevin Smith's podcast borne film project, Tusk, at last arrives with a queasy trill. Though it doesn't live up to certain perverse levels of strangeness that it promises, it's a wacky, weird, and fun jaunt, especially considering this was a film that originated off the cuff. Certainly the most successfully entertaining film from Smith in quite some time, it may turn off or underwhelm after the initial bloom passes, especially as it's narrative is a familiar cobbling of certain well known titles that have attained cultural iconicity (for better or worse). Still, it's a great piece of weird pie to watch with an audience hungry for its bizarre spoils.
Wallace (Justin Long) and best friend Teddy (Haley Joel Osment) run a successful podcast known as "The Not-See Party," usually generating laughs and culling material by mocking the output of others. One such video they've been particularly proud of lambasting features a young teenager boy known as "the Kill Bill Kid," who accidently cuts off his own leg. Traveling to Manitoba to interview the young lad in person for the podcast seems to be a great idea for ratings, especially since the kid reached out to them. But Wally's girlfriend, Allison (Genesis Rodriguez), is disappointed in the rather cruel person that success fashioned out of her once sweet boyfriend.
Upon arrival, Wally discovers his interviewee has committed suicide, and he's stuck looking for a replacement interview to justify the trip. Spying a strange ad in the bathroom at a convenience store from an old man promising to relate his oceanic adventures of decades past finds Wally introducing himself to a paraplegic invalid in rural Manitoba. Howard Howe (Michael Parks) seems to be a friendly and lonely old man. But quickly, Wally discovers that something much more sinister is going on, and that Howard's invitation is actually a deadly trap.
The always winning Justin Long gets saddled in the role of an obnoxious charlatan who may not exactly deserve the predicament he ends up, but we're purposefully led not to feel too much pity due to his philandering, womanizing ways. The real scene stealer is Michael Parks, an actor known mostly as one of Tarantino's regular players. As the insanely mad Howard Howe, Parks is a delight in nearly every sequence, and by the time Tusk reveals the piece de resistance, it's gone into its own little gonzo universe where it doesn't exactly have to play by rules of logic. A rather extended cameo from the prosthetically disguised Johnny Depp is at first rather amusing but quickly overreaches its stay in an overextended fast food restaurant scene (depending on your acceptance level of nepotism, you may also find the presence of both Smith and Depp's daughters a bit grating, but they're going to be in the next project, so c'est la vie).
Park's Howe seems based on the central figure from Herzog's Grizzly Man documentary and the final closing sequence is reminiscent of that chicken-coop finale of Tod Browning's Freaks (1932). Borrowing heavily from films like Misery (1990) and, especially, The Human Centipede films, Tusk doesn't feel as wholly original as it could be, even though it hits some delightfully macabre notes. Likewise, it's never as horrifying as it could have been (a cloud of possible sexual perversities are nearly wholly avoided, for instance), and though it's often quite funny, it could have been darker, sharper, more honed into a lethal lambast of humanity. Still, it's a notable return from Smith, and despite the many conversations about retiring as director, he seems to have enough vivaciousness to crack out something fun, surprising, and energetic.
Reviewed on September 6th at the 2014 Toronto International Film Festival – Midnight Madness Programme. 102 Minutes
★★★/☆☆☆☆☆