Meeting Point | 2021 Warsaw International Film Festival Review
Nighttime is the Right Time: two unlikely companions navigate a liminal Istanbul in Evirgen's one-night odyssey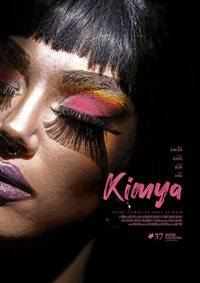 Sometime in the early naughts, a certain type of cinema came to a high tide – a highly stylized, vibrant and kinetic brand of filmmaking that was notably associated with Wong Kar-Wai. Drawing on similar premises and the same moody aesthetic of lush colours and grungy settings, filmmaker Umut Evirgen tries his hand at a story about the romantic weariness of modern life. Set over the course of just one night, Meeting Point takes us on a motorcycle ride through a bustling yet seemingly apathetic Istanbul, when two outcasts accidentally bond over their feelings of alienation as they wait outside the same venue. What could have been a very sleazy dynamic – as it often happens – between an older man (Levent Üzümcü) and a much younger woman (Melisa Şenolsun), becomes a sweet form of comradeship, where they undertake new experiences and explore their anxieties together.
Evirgen manages to create a tasteful and ambiguous tension between the two – there is great suspense in not knowing whether romantic feelings are at play. There are hints, there are glances, but, ultimately, the fact that it may be an unconsumable, innocent companionship proves to be a more satisfying thought, in the sense that Evirgen also seems to subscribe to the idea that life is one missed opportunity after another.
In terms of style, Meeting Point delivers a vibrant, fragmented and stylized vision of night life, in a similar manner to how a lot of independent music videos operate today. Take, for example, Baxter Dury's works. The film also makes use of effects which heavily remind us of Kar-Wai's work, by playing with speed and the frame rate, in a largely successful effort of replicating the detachment and confusion the characters are feeling, treating images as fleeting thoughts.
As shown by Evirgen, life is merely an afterimage. There are times when these effects feel gimmicky and empty – cinema has had plenty of parties filmed through altered frame rates – but in other instances they come off as particularly inventive. Such are the scenes in a drag club the man gets introduced to, where some of the performances are presented to the audience as lingering images and feelings of motion, rather than in a classical manner. Evirgen also has to be praised for avoiding a certain fetishizing gaze that many directors fall into when filming drag, by including some subtle and sensuous details about life in a nightclub.

Despite recalling a certain cinematic language of the 90's, Meeting Point is a film in tune with the present, offering an organic and authentic portrayal of contemporary nightlife. In translating to the screen that very sentiment of languor that sets in once the sun goes down, Evirgen's tale of unlikely companionship leaves a bittersweet aftertaste, like the realization that a stranger is the best person to tell your secrets to. With its creative take on the what-could-have-been scenario of brief encounters, Meeting Point gives substance to the fantasy of wishing you had said yes when you said no.
Reviewed on October 16th at the 2021 Warsaw International Film Festival – Competition 1-2 Section. 90 mins. Part of the The Fipresci Warsaw Critics Project.
★★★½/☆☆☆☆☆