Needle in a Timestack | Review
Stye of the Needle: Ridley Can't Thread Conceptual Sci-Fi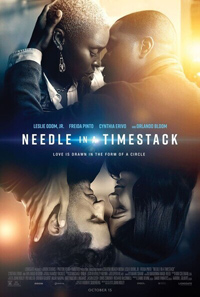 Time travel is tricky, especially when trying to effectively demonstrate its parameters and ramifications in narrative cinema. Sometimes, it allows for meaningful avenues in exploring the human condition, but often it's a conceptual hematoma overshadowing the narrative. Such is the case with John Ridley's Needle in a Timestack, based on a short story by prolific sci-fi writer Robert Silverberg (whose 1992 update on Asimov's The Positronic Man was adapted in 1999 for the Robin Williams film Bicentennial Man).
Ridley, best known as the Academy Award winning scribe for 2013's 12 Years a Slave, last embarked on a narrative stint was the underrated 2013 Hendrix bio Jimi: All is By My Side (read review) featuring Andre Benjamin. On paper, the cast and concept intrigue in what promises to be a captivating portrait of Black love funneled through heady sci-fi, a couple surviving the slings and arrows of what appears to be white controlled time travel. Unfortunately, its vintage undergirding doesn't boomerang into the retro relevance it desires or requires.
In the near future, Nick (Leslie Odom Jr.) and Janine (Cynthia Erivo) seem happily married in their picture perfect home. He's an urban planner and she's a photographer, but as indicated by a teary self-filmed confession from Janine introducing the film, something seems to be troubling them. They live in a world where time travel is possible (though so expensive, only the elite can comfortably afford to do it), in an act called 'jaunting.' But sometimes, these jaunts find people doing 'illegal' things which change the course of history, usually on a smaller, personal scale. These changes create a time lapse, called 'phasing,' where people can suddenly find themselves in a different time or different place based on modifications made in their past. This phasing looks like a plasma field creating a sort of time-quake. Janine's ex-husband Tommy (Orlando Bloom), who was once a college friend of Nick's, seems to be tinkering with the past as a means to get Janine back, the notion of which is driving Nick a bit crazy. When the inevitable happens, Nick suddenly finds himself married to old college girlfriend Alex (Freida Pinto) after Tommy successfully phases out the past. But there's a nagging feeling, as if Nick's life isn't quite what it should be, leading him to jaunt back to a particular college party where he believes everything veered in the wrong direction concerning his friendship with Tommy.

While more so a stage for how our memories (and, therefore, the past) defines our present existence, Needle is strongly akin to Total Recall (1990) and even this year's Reminiscence. Like a property which plays like something Denzel Washington would have headlined two decades ago with a bigger budget, Ridley rests the narrative squarely on the shoulders of Leslie Odom Jr., but forgot to flesh him out beyond merely a man whose jealousy and paranoia define his stronghold on Jeanine. Recently a standout in supporting roles, such as his Oscar nominated turn as Sam Cooke in One Night in Miami, or his scene stealing turn in The Many Saints of Newark, Odom capably jaunts through the motions, but there's never any care in formulating interest as to where he lands. The narrative most intrigues in the realm of self-fulfilling prophecy, a one-sided relationship study like Chabrol's L'enfer (1994), but like it's other subtleties, is lost in the miasma of distracting terminologies, like "phasing" and "jaunting," especially as there's little explanation devoted to the glaring plot holes developing around them.
If Ridley's script fails Odom, the supporting cast fares from middling to miserable by comparison. Erivo, by default, disappears by the midway mark, though we're never left to understand what really defined the bond of Nick and Janine, whose connection is likened to an oft referenced circle, but should have felt somewhere along the lines of 'the greatest love of all,' at least for them. She's captivating, but feels like an element for admiration, nothing more.
Orlando Bloom feels like interesting casting in this environment, but again, he's merely a catalyst without any presence. The beautiful Frieda Pinto, once again, is backed into a dry corner, merely a placeholder without any defining characteristics. And then there's the strangely written and oddly performed role of Nick's sister Zoe, played by Jadyn Wong, who not only seems consistently on the verge of a nervous breakdown, but is written like a closeted lesbian character speaking in code. Her connection (which reads like a lusty obsession) with a "best friend," whose language she does not speak, rears its head like an ornery elephant in the room, looming even more prominently considering Janine's homoerotic photo shoot early in the film—-in other words, it's the future and yet no one seems to be able to have a remotely authentic conversation or involved in any kind of human experience beyond the cusp of a pop song chorus.
Instead, this feels like the adult version of the popular children's frustrating gift exchange game, White Elephant, where players can steal the goods in an endless power struggle for material ownership. While Ridley's awkward title promises something intriguing (recalling, in title, Hilary Brougher's wonderful 1997 debut, The Sticky Fingers of Time), nothing coalesces effectively, including Mark Isham's score and some mismatched soundtrack selections which never rightly fit the mood of any particular scene. Strange but never interesting, it's a film which exemplifies the importance of actions vs. words, as both love and lust are depicted as algorithms to be tinkered with rather than the human experiences they are.
★/☆☆☆☆☆