Ghosts in Wartime: Anvari's Period Piece the Horror Genre Needs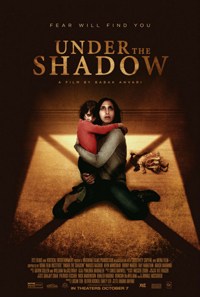 Iranian born Babak Anvari broke out with his literal assessment of class conflict in BAFTA-nominated short Two & Two (2011), and makes his feature directorial debut assertively careening into an atmospherically loquacious piece of cinema. With its idiosyncratic treatment of obscurely-covered historical events, Under the Shadow works as an unorthodox example of the genre, but in the same measure remains a marginally unbalanced and plodding first work.
The film is set in Tehran, Iran during the War of the Cities in the 1980s, following Shideh (Narges Rashidi), her husband Iraj (Bobby Naderi), and their daughter Dorsa (Avin Manshadi) as they try to continue with their lives despite the violence. As Shideh attempts to gain control of her life in post-Revolution Iran, Iraj is sent as a military doctor to an area of intense fighting. Their world gets seemingly smaller as more of their fellow tenants continue to flee to avoid the constant air raids and missile attacks. Shideh and Dorsa suffer from nightmares, that their neighbor (Aram Ghasemy) is convinced are caused by a Djinn. From that point out, it plays to a similar tune as if Park Chan-wook had directed the original Poltergeist.
Working from a template that is both slow and deliberate, this character study places an emphasis on place and time as the source for its spook factor while dialogue exchanges are kept to a bare minimum. This structure comes to scrutinize how human beings adapt in various crises enveloped in horror movie cliche — it'll remind viewers of Tobe Hooper helming of Steven Spielberg's seminal screenplay. Due to characters falling for the "not going to listen to the child obviously experiencing supernatural phenomena" trope there is an air of reckless stubbornness in the face of all adversity, yet there is a fragile authenticity with Rashidi and Manshadi providing subtly haunting performances that delve far more into a cerebral kind of horror. Their chemistry is rather profound, leading several scenes to conclude with a heartfelt sincerity.
Cinematically Anvari and his long-time dp, Kit Fraser offer a sublime ingenuity, utilizing camera motions and framing that harkens back to Conrad L. Hall. Unlike many modern films that overuse the orange-teal color combination, colorist Filipe Fernandes takes this array of stunning shots and gives the whole of the film a pale and unbalanced color scheme, highlighting specific elements within each scene that play a larger role in the story or in the contruction of the characters' personalities — it ressembles the invoked fear-filled palettes found in David Slade's Hard Candy (2005) and Kim Jee-woon's I Saw The Devil (2010).
With all of these superb production design elements in place, the one problem area are the special effects. Though the small amount of practical effects are indeed decent, the computerized-look appears so drastically out of place in contrast to the rest of the film. The lack of polish in these effects undermines the sequences they are present, resulting in an almost campy and self-defeating attitude in the film's climax, almost exactly in the way that underwhelming effects lead Christian Alvart's Antibodies (2005) to implode at its most crucial moment.
As a horror film, it radiates with newfound maturity for the genre; flowing from each character and set piece. Though it trips up on the banalities of the genre, this undoubtedly embraces a number of complicated underlying themes. Under the Shadow remains a truthful reflection on human complexity, an immersion into Arabian mythology, and an exploration into an emotional reaction to historically destructive events.
★★★½/☆☆☆☆☆